Letter from William McGillivray to his Father, John
Our thanks to Jacques Poitras of Quebec City, who kindly shared the contents of this letter with us.
Background
1861
In April of 1861, there was dramatic flooding of the St. Lawrence River. This letter provides a first-hand account of the damage and suffering caused by this flood.
1861
Une crue soudaine du St-Laurent provoque l'inondation de presque le quart de Montréal. Dans les églises, les gens se retrouvent dans presque 2 mètres d'eau et plusieurs doivent grimper sur les bancs pour ne pas se noyer.
http://www.meteo.org/archives/hist04.htm
The Letter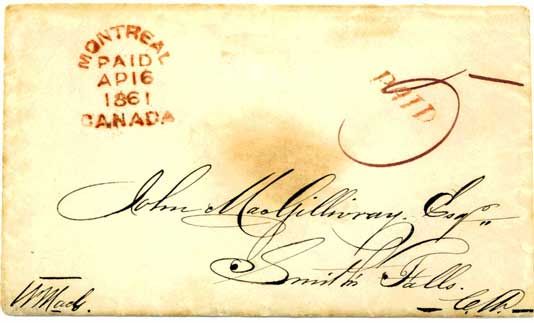 Montreal,

Apl.16/61


½ past 3 p.m.


Dear Father,


Things are still in a fearful state. Water abated nothing to speak of, hard times all around Griffintown. I have sent you papers which give but a lame account and description of the reality.

I crossed McGill street on a raft today. The factories of Griffintown are all at a stand still. Boat loads of bread are still being sent to the sufferers. It is feared that fearful sickness will prevail after the water leaves. Nothing doing in the city, wholesale houses are closed. The whole talk is the flood. Ladies and gentlemen are going round the city looking on this terrible devastation.


The whole city in a business point of view seems to be paralysed. Peoples faces grow long as you speak to them of this calamity, and they become pale and sorrowful.


The citizens are doing all they can for the sufferers. Many of those who are now engaged in this work of charity, will be laid up, for the days are cold and their (working?) so much in the boats and canoes must bring on illness sooner or later. People are up all night at this work.


I wish the water was off, for the scenes to be seen in our streets, scenes of misery! Poverty and suffering, are terrible to look upon and sickens one heart to behold (?).


You can have no idea of it all nor would you believe it unless you saw it.


I felt in this way how thankful we ought to be for even the smallest comforts heaven has bestowed upon us. The terrible destitution of Griffintown this very moment baffles description.


If a kind Providence would only see fit to (recede?) the ice and allow the water free (?), it would better their condition greatly. Love to all at home. I am dear father your affect. Son,


Wm. MacGillivray

[This part was written on the back of the envelope].

11 o'clock p.m. the rush of water is abating, think the inundation is all over, everything is floating in our place. Night cold. Excitement in the streets. Fire companies galloping through Rue Notre Dame. No water around Place de(sic) Armes! Pas danger à la résidence du mois(?) Dieu scouré!

Wm. Macg

Bureau de poste.