Dorothy Weekes and Roy Armstrong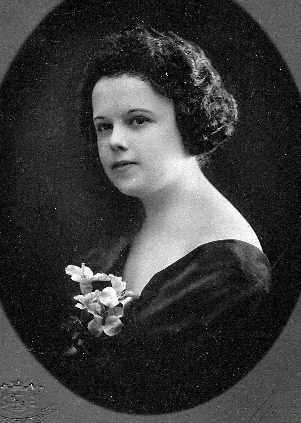 38464-26 LeRoy James ARMSTRONG, 26, industrial engineer, New York Mills NY, Mohawk NY, s/o James Henry ARMSTRONG, b. New Hartford NY & Jennie JOHNSON, married Dorothy Jane WEEKES, 24, nurse, Smiths Falls, same, d/o George O. WEEKES, b. South Elmsley twp. & Ivy Mabel HUTTON, witn: George O. WEEKES & Florence BAIRD, both of Smiths Falls, 9 Aug 1926 at Smiths Falls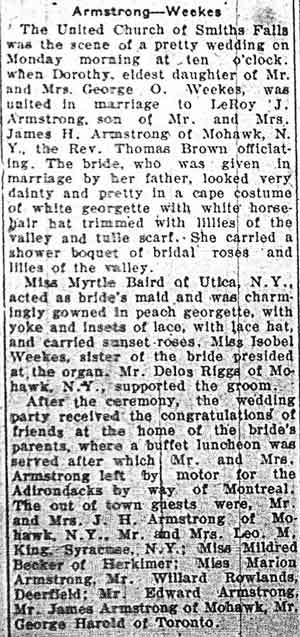 ---
Robert LeRoy Armstrong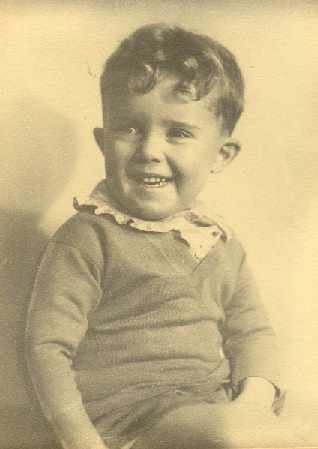 Robert L. Armstrong
Robert L. Armstrong, beloved husband, father, grandfather, uncle and friend, died in Los Angeles, CA May 25th, 2020 of Covid-19 at the age of 92.
Bob was born in Mohawk, NY Feb 1, 1928 to LeRoy James Armstrong and Dorothy Jane Weekes. He was a Navy veteran who served a Pacific tour on the USS Topeka, '46 - '48, and was a Pi Kappa Alpha alumnus of the University of Michigan Ann Arbor class of '52.
Bob married the love of his life, Norma Erselia D'Amico, August 23, 1952. His 35-year career with Chrysler Corporation took him from the Pontiac Missile Division to Chrysler's international operations in Geneva, Switzerland and London, England. Intrepid family car trips included destinations in the Europe as well as N. Africa and the Middle East. Bob and Norma cultivated friendships with a large community in Geneva and London, which endured for decades.
After repatriating to the US in 1977, Bob and Norma settled in their home in Berkley, Michigan, which they shared with several generations of cherished yellow labs. Always generous and kind, Bob spent his retirement volunteering for the Red Cross, Beaumont hospital, and was a docent at Detroit Institute of Arts. In 2014, Bob and Norma moved to Glendale, CA to be with their adult children. Bob was a true gentleman with a droll sense of humor. He was loved and respected by all who knew him. ...
Published by Detroit Free Press & The Detroit News from Jun. 10 to Jun. 14, 2020.