Hilda Gertrude McCallum and Olin Leroy Boyd
The Boyd Line
Andrew Boyd, 1862-1935 married Della Jane Hollister, 1862-1942.

They had two children. William James Boyd, 1889-1924, married Sarah Eleda 1891-1970. William and Sarah had a daughter Rea Hollister 1920-1926. Olin Leroy Boyd 1892-May 1971, married Hilda Gertrude McCallum in 1920 or 1921.
Hilda and Olin Leroy had four children, Mary (1923), Nancy (1926), Eleanor (1928) and Carol 1930.
---
Mary Lenore Boyd and Kenneth Bramwell Zealley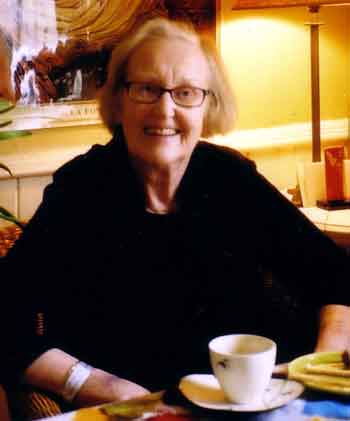 Mary Lenore Zealley - Christmas 2002
---
Hilda Carol Boyd (Macpherson)
Carol passed away peacefully in her sleep early in the morning at Seven Oaks Hospital. Born in Toronto to Olin LeRoy and Hilda Gertrude Boyd, she was the youngest of four sisters. Carol was predeceased by her parents and her oldest sister, Mary Zealley (Ken). She is survived by John, her husband of 58 years, her sons Bob (Vivian) and Bill (Rita), grandchildren Shaun, Jill (Blake), Ian, Natalie and Hailey, as well as her sisters Nancy (Jim) and Eleanor (Doug), and her brother-in-law Jim (Norma) Macpherson, and 22 nieces and nephews, and 20 great nieces and nephews. Carol graduated from Moulton College and earned her R.N. at Women's College Hospital in Toronto where she practised nursing. After marrying John in May 1954, she traded the city life for five years of construction at two remote hydroelectric sites in Quebec. The next six years were spent on Niagara peninsula where she was active raising two sons and in the events of the Historical Society of Niagara-on-the-Lake. Since mid 1965, they have lived in Winnipeg where Carol became active in part time selling of antiques and volunteering at the Winnipeg Ballet's Women's Committee's Things Shop. She loved her summers at the cottage at Hawk Lake and enjoyed many winter visits also. Carol was often seen walking in town and at the lake, wearing her backpack and accompanied by the dog, whether it be for shopping, visiting friends, or just enjoying the out-of-doors. Both John and Carol enjoyed traveling, and Carol's most frequently mentioned were the trip to China and the Windjammer Caribbean cruise. Cremation has taken place and a celebration of Carol's life will be held at 2:00 p.m. on Tuesday, October 9, 2012 at Thomson 'In the Park' Funeral Home, 1291 McGillivray Boulevard Winnipeg, Manitoba.