Hilda Gertrude McCallum and Olin Leroy Boyd
The Boyd Line
Andrew Boyd, 1862-1935 married Della Jane Hollister, 1862-1942.

They had two children. William James Boyd, 1889-1924, married Sarah Eleda 1891-1970. William and Sarah had a daughter Rea Hollister 1920-1926. Olin Leroy Boyd 1892-May 1971, married Hilda Gertrude McCallum in 1920 or 1921.
Hilda and Olin Leroy had four children, Mary (1923), Nancy (1926), Eleanor (1928) and Carol 1930.
---
Mary Lenore Boyd and Kenneth Bramwell Zealley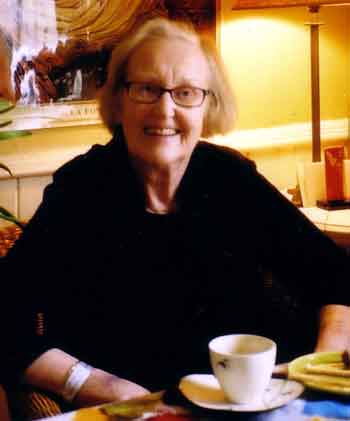 Mary Lenore Zealley - Christmas 2002
---
Nancy Jane Boyd
Nancy Jane Reid (Boyd)
June 20 1926 – December 18 2017
Nancy Reid passed away recently at the age of 91. Predeceased by her husband Dr. James Duncan Reid after 63 years of marriage and her sisters Mary, Eleanor and Carol, ... Her life's work and passion focused on her children and their careers as well as on the arts and cultural life around her.
She grew up in the Beach, in Toronto, attended Malvern Collegiate, studied piano and graduated from UofT Victoria College with a BA in music history. During WWII, in high school, she served as a Farmerette, in the Niagara Peninsula and as an undergraduate, spent two summers in Saskatchewan, as a United Church student minister. She travelled the circuit by horseback or bicycle and taught swimming in summer camps. She met James Reid during orientation week at university, married him on Christmas Eve 1948 and spent their first eight years in Wyoming Ontario with Jim in general medical practice. She sang in Jeanne's All Girls' Choir and attended the inaugural and subsequent seasons of the Stratford Festival. When Jim's medical career took the family to Port Credit, she joined the University Women's Club, elected president in the 1960's, and participated enthusiastically in the local Great Books' Club.
Most significantly, she took up the viola, to complete the family string quartet, studying with Mary McGeer, Beverley Spotten and Rivka Golani. This fueled her involvement in the founding and ongoing support of the Mississauga Symphony, where she collaborated closely with Dr. Boyd Neel and his successor John Barnum to ensure the future of the fledgling enterprise. She and her family were also active in Patrick Burroughs' Bach Youth Ensemble facilitating tours across Canada and in France.
In 1982, she followed Jim to Saudi Arabia for his work. While there, she travelled to London to train in English as a Second Language, later becoming a global tourist, visiting friends from the expat communities in Saudi. When Jim retired to Toronto, she reconnected with local amateur chamber music groups, and became a regular presence at festival and season's performances in the arts. She found or re-found friends within a network of enthusiastic collaborators wherever she went.
Nancy's charisma generated a warm glow for all who knew her. She took great pride in the academic, cultural and business accomplishments of her children and grandchildren. They owe her much for her devotion to them. As well, her leadership as a community entrepreneur in the arts encouraged careers and stable institutions and her dedication as an amateur musician inspired many. Donations in her memory should be sent to the Stratford Shakespearean Festival Endowment Fund, the Festival of the Sound and the Mississauga Symphony. A Celebration of Life event is being planned for the spring, 2018.
---
Hilda Carol Boyd (Macpherson)
Carol passed away peacefully in her sleep early in the morning at Seven Oaks Hospital. Born in Toronto to Olin LeRoy and Hilda Gertrude Boyd, she was the youngest of four sisters. Carol was predeceased by her parents and her oldest sister, Mary Zealley (Ken). She is survived by John, her husband of 58 years, her sons Bob (Vivian) and Bill (Rita), grandchildren Shaun, Jill (Blake), Ian, Natalie and Hailey, as well as her sisters Nancy (Jim) and Eleanor (Doug), and her brother-in-law Jim (Norma) Macpherson, and 22 nieces and nephews, and 20 great nieces and nephews. Carol graduated from Moulton College and earned her R.N. at Women's College Hospital in Toronto where she practised nursing. After marrying John in May 1954, she traded the city life for five years of construction at two remote hydroelectric sites in Quebec. The next six years were spent on Niagara peninsula where she was active raising two sons and in the events of the Historical Society of Niagara-on-the-Lake. Since mid 1965, they have lived in Winnipeg where Carol became active in part time selling of antiques and volunteering at the Winnipeg Ballet's Women's Committee's Things Shop. She loved her summers at the cottage at Hawk Lake and enjoyed many winter visits also. Carol was often seen walking in town and at the lake, wearing her backpack and accompanied by the dog, whether it be for shopping, visiting friends, or just enjoying the out-of-doors. Both John and Carol enjoyed traveling, and Carol's most frequently mentioned were the trip to China and the Windjammer Caribbean cruise. Cremation has taken place and a celebration of Carol's life will be held at 2:00 p.m. on Tuesday, October 9, 2012 at Thomson 'In the Park' Funeral Home, 1291 McGillivray Boulevard Winnipeg, Manitoba.
---