So far, we only know a few facts about the life of Alexander.
1853
Bathurst Courier, September 16,1853
Married, at Smiths Falls, on the 5th inst. by the Rev. Mr. Millen, Mr. Alex Weeks to Miss Isabella (Smith), daughter of Mr. Ralph Smith, both of North Elmsley.
1870
The following Perth Courier March 4, 1870 article points to Alexander F's activities as a constable, and to his successful application for a tavern license.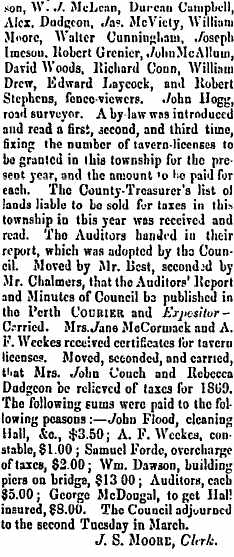 1871
The 1871 census lists an Albert and Isabella, who's ages and occupations match Alexander and Isabella. These two do not appear in the 1881 census for any of the surrounding townships, so either left the region or passed away. If Albert really is Alexander, he had died in 1880, so could be a fit for this confusion. It is reasonable to assume that Alexander and "Albert" are one and the same.
N. Elmsley Census 1871
Albert Weekes, age 46, born Ontario, Church of Scotland, origin Irish, Hotel Keeper
Isabella Weekes, age 34, born Ireland, church FRC (sic), origin Irish, Spouse
Newspaper records show us that Alexander provided services to the Port Elmsley Council as a constable, that he was nominated as a Treasurer for the Council, and that he applied for a tavern license in 1870 and 1871.
1880
Perth Courier, April 16, 1880
Died. At Lombardy, on Friday April 22nd, Mr Alex Weekes, aged 57 years.