Weekes and Fullerton Pre-history
The sources for much of this information include Joseph's military records from the Londonderry Militia, and the 40th Regiment of Foot, from Joseph Jr.'s military record with the 74th Regiment of Foot, and from North Elmsley land transfer records.
We have a faint copy of hand-written notes that suggest that "Edward Alexander Weekes" was the father of Joseph Weekes. No other source has been found for this yet.
From Joseph's military record, we know about his time in the Londonderry Militia and the 40th Regiment of Foot. The 40th Regiment of Foot had a distinguished history, including Joseph's time in the regiment. When Joseph joined the 40th in 1807, they had just returned from a campaign in South America. Shortly after he joined, the regiment went to Portugal to take part in the Peninsular war. They served as part of Wellington's army fighting Napoleon for six years, eventually driving Napoleon out of Portugal and Spain and back into France. Jane Fullerton is assumed to have accompanied other army wives, following the regiment to Portugal. Joseph Jr. was born in Lisbon Portugal in 1809. During this time the 40th earned thirteen battle honors from Rolica to Toulouse. It was at the battle of Toulouse that Joseph was seriously wounded, losing his left arm. By the time the Peninsular War was concluded in April of 1814, the British army had marched over 6,000 miles, and had fought undefeated for six years. The regiment returned to England in 1814, and Joseph was discharged because of his injuries.
The 40th Regiment of Foot later returned to Europe to fight under Wellington against Napoleon at the Battle of Waterloo. There is an excellent book by the Sergeant of Joseph's unit, The Autobiography of Sergeant William Lawrence, that describes their lives in Portugal, Spain and France in great detail. It is a fascinating glimpse into what Joseph's military life was like.
1777 Joseph Weekes is born. (date derived from 1851 N. Elmsley Census, and military records)
1787 Jane Fullerton is born (date derived from 1851 N. Elmsley Census)
1803 April 18, Joseph joins the Londonderry Militia in Londonderry, becoming a Corporal in August.
1805 Joseph is stationed in Limerick, Killarney and Belfast.
1807 Joseph is stationed in Newry.
1807 October 6, recruited to the 40th Regiment of Foot, 2nd Battalion, as a Private, stationed in Waterford.
1808 March 25, Joseph joined the 1st Battalion from the 2nd Battalion, stationed in Cove of Cork until August, Monte Santa in September, and Portugal.
1809 Joseph is stationed in Portugal until June, then Badajoz, Spain (on the Portuguese border), until October.
1809 February - Joseph Weekes Jr. is born in Lisbon (derived from Joseph Jr.'s military records). It is speculated that Jane was among the military wives who were allowed to accompany their husbands on the military postings.
1814 Joseph loses his left arm from a wound at Toulouse, France, and is wounded in face at Pamplona. Spain (150 km. from Toulouse). He had also served in Bordeaux, France around this time.
1814 December 28, Joseph is discharged from the 40th Regiment of Foot because of these injuries, after 7 years and 87 days in the 1st Battalion. His discharge papers describe him as 5 ft. 9 in., red hair, blue eyes, fresh complexion, and by trade a miller.
1815 He is granted a life-time pension of 9 pence per day. From Crowder, Norman K. "British Army Pensioners Abroad 1772-1899". Baltimore. Genealogical Publishing Co. Inc. 1995. (ISBN 0-8063-1460-5). "Joseph Weeks. pension awarded 2 Feb. 1815; residence-Smith Falls, Ontario, Canada; died 26 May 1854. Source: WO120 Volume 69, Page 178, Index #4393."
1816 An(ne) Jean Weekes is born. No official records of Anne's are known.
1817 Edward Fullerton Weekes is born (County Antrim, Ireland).
1821 Charlotte Weekes is born.
1823 Alexander F. Weekes is born (County Derry, Ireland).
1826 James Weekes is born (County Antrim, Ireland).
1829 There are various lists showing John Weekes is born, but John's existence is unsubstantiated from any historic sources.
1831 Joseph Jr. joins the 74th Regiment of Foot in Belfast. Joseph Sr., father, listed as resident of County Antrim, Parish of Aghagle [sp? Should be one of: Aghagallon, Aghalee or Ahoghill]
1839[?] Joseph, Jane and five children (Edward, Charlotte, Alexander, James and another daughter) migrate to Canada. Notes from Marjorie Woods suggest that the family departed from Tipperary, but this would only have been the point of embarkation, and not related to where the family lived. Edward F. first lived in Smiths Falls. Where the others settled is not yet known. [The date 1839 comes from Edward F's obituary, but James' obituary shows immigration in 1844. The family was definitely in the region in September 1842 when Charlotte married James Connerty with Edward F. as a witness.]
1851 N. quarter lot 9, con.6, Port Elmsley, N. Elmsley, deed transferred from Wm Morris to Joseph Weekes, 50 acres.
1851 The North Elmsley Census shows Joseph as 74, Church of Scotland, "formerly Miller (a Pensioner)", and Jane as 64. The household also includes Alexander, age 25, and John, age 2. John is probably John F weekes, the son of Joseph's son James, although a John, age 3 appears in James' houselhold as well.
1854 April 26th, Joseph creates his last will and testament
1854 Joseph dies on May 20, at age 77.
1854 N. quarter lot 9, con.6, Port Elmsley, N. Elmsley, will transfer from Joseph Weekes to Jane Weekes, 50 acres.
1861 The North Elmsley census shows Jane as 72 and a housekeeper, with James and his family sharing the same address.
1863 September 18, N. quarter lot 9, con.6, Port Elmsley, N. Elmsley, deed transferred from Jane Weekes to James Weekes, 50 acres. (witnessed by Edward Weekes and John Hogg.)
1863 Jane is presumed to have died.
1882 December 27, James sells the Port Elmsley property to Thomas Stone for $900.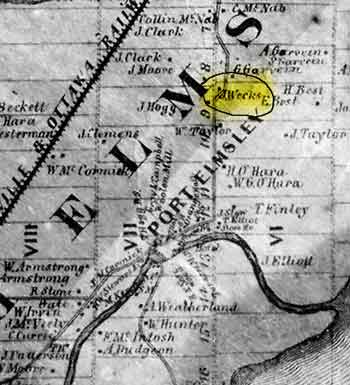 This is a section of the 1863 Map of the Counties of Lanark and Renfrew, Canada West, courtesy of the Lanark County Genealogical Society.
JWeeks could refer to any of Joseph Weekes who bought the property in 1851, Jane Weekes to whom title was transferred in 1854, or James Weekes, to whom title transferred in 1863, depending on when the information for the map was gathered.
The Weekes house was located on the highway curve from Smiths Falls just before getting to the village of Port Elmsley. A log building sitting behind a more modern house in that location today may have been the original Weekes home. The property marked J Hogg is the current Pines Subdivision. The property marked J Clark and J Moore was home for Randy Weekes and Alan Weekes more than 100 years after Joseph and Jane lived on the property connected at the corner.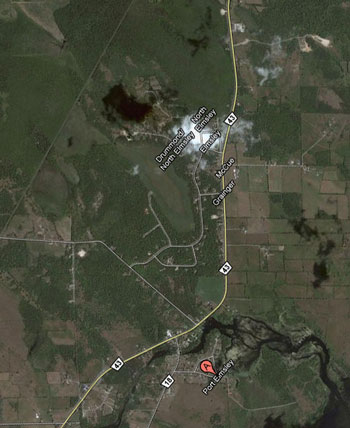 Notes for Joseph and Jane:
From 1851 Census of Residents in North Elmsley Township, Lanark County
| NAME | LOCATION | ACRE | BORN | RELIGION | AGE | STATUS | OCCUPATION | PAGE |
| --- | --- | --- | --- | --- | --- | --- | --- | --- |
| WEEKES, JOSEPH | Con.06,Lot 09P | 50 | IRE. | C/S | 74 | M/M | MILLER | 26 |
| " , JANE Mrs. | | | IRE. | C/S | 64 | M/F | | 26 |
| " , ALEXANDER | | | IRE. | C/S | 25 | S/M | LABOURER | 26 |
| " , JOHN | | | N.EL | C/S | 02 | S/M | | 26 |
From 1861 Census of Residents in North Elmsley Township, Lanark County
| NAME | LOCATION | BORN | RELIGION | AGE | OCCUPATION | HOUSE | PAGE |
| --- | --- | --- | --- | --- | --- | --- | --- |
| WEEKS, James | ELMS.Con.06,Lot 09 | IRE. | C/S | 37 | FARMER | LOG | 28 |
| " , ANN Mrs. | " | ONT. | C/S | 31 | HOUSEWIFE | | 28 |
| " , JAMES Jr. | " | ONT. | C/S | 10 | SCHOOL | | 28 |
| " , JOHN | " | ONT. | C/S | 08 | SCHOOL | | 28 |
| " , ELIZABETH E. | " | ONT. | C/S | 07 | SCHOOL | | 28 |
| " , JOSEPH | " | ONT. | C/S | 06 | | | 28 |
| " , ANNE JANE | " | ONT. | C/S | 02 | | | 28 |
| WEEKS , JANE Mrs. | " | IRE. | C/S | 72 | HOUSEKEEPER | | 28 |