Ivy Isobel Weekes and Norman Alfred Hamlet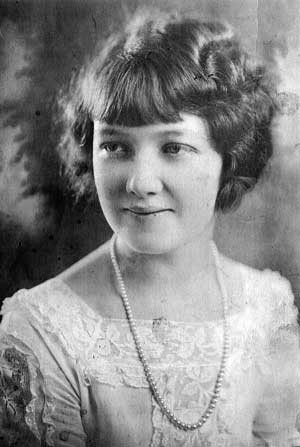 Obituary:
Ivy Isobel Weeks Hamlet,

Seneca

Ivy Isobel Weeks Hamlet, 93, formerly of Skokie, Ill., wife of the late Norman Alfred Hamlet, died May 5, 1999, at Palmetto Baptist Medical Center in Easley.

Born in Smiths Falls, Ontario, she was the daughter of the late George O. and Ivy Hutton Weeks. She graduated from Ottawa Normal College. She was a homemaker and member of the United Church of Canada.

Survivors: a daughter, Joan Field of Seneca; a sister, Lucy Davy of Kingston, Ontario; three grandchildren; and a great-grandchild.

A private memorial service will be held. Robinson Funeral Home.
---
Marshall Field Jr.
Marshall 'Bud' Field Jr. of Seneca, S.C., died April 23, 2007, at Greenville Memorial Hospital.
He leaves a wife of 52 years, Joan Hamlet, and a sister, Dorothy F. Skallerup of Hot Springs, Arkansas. He also leaves three children, Matthew (Hellen) Field of Atlanta, Jeffrey Field of Greenville, S.C., and Stacy (David) Magee of Cleveland; and two grandchildren, Sara and James H. Magee. A daughter, Kathleen, preceded him in death in 1979.
Born in Chicago, son of Dr. Marshall Field and Clara Colson, Bud attended North Park Academy, where he co-captained a winning "all-Chicago" football team, with 2 undefeated seasons. He attended Western Michigan University on a football scholarship, and received a BS degree in chemistry. He later received his MBA degree from Northwestern University.
After stints in the Army and with Koppers Co., Bud joined and helped grow the management consulting firm of AT Kearney from a small, 30-person firm based in Chicago into an international firm. After 30 years of devoted service to the company, Bud retired as senior vice president.
Bud was active in health and service organizations, including Northwest Chicago YMCA, Cystic Fibrosis, Crippled Children Society, Cancer Society , Cleveland Blue Coats, and in Greenville, he was active in Rotary International and SCORE.
His club memberships included: The Chicago Club, The Economic Club, East Bank Club, Chicago Athletic Club, Riverbank Club, Inverness C.C., The Hermit Club, Mayfield C.C., Cleveland Racquet Club, and Cleveland Playhouse Club.
A private family memorial will be held at a later date.