John Frederick Weekes and Matilda Jane Morrow
"001891-82 (Carleton Co) John WEEKS, 26, printer, Canada, Ottawa, s/o James & Ann WEEKS married Matilda MORROW, 19, Ireland, Ottawa, d/o Alexander & Maggie MORROW. Wit James J. WILDER and Mary ROWAN, both of Ottawa. February 27, 1882 at Ottawa."
Perth Expositor Jan 20, 1888
"Sad News From Montana. We were shocked last Thursday on hearing the sad news that Mr. John F. Weekes, son of Mr. James Weekes, of Port Elmsley, and brother of Messrs. James and Alex Weekes, of this place, had died that morning, at Bute City (sic), Montana. The telegram gave no particulars as to the cause of death, but his friends here think it was sudden, for it is but a few weeks ago since a letter was received with a photo of the family - six in all, four children - in which all looked healthy and happy. Mr. Weekes was a printer by profession, and one well skilled in the art. Since leaving for the far west some two years and a half ago, he has followed his calling, and prospered beyond his expectations. A wife and four little children are now suddenly called upon to mourn a devoted husband and fond parent, to whom and the bereaved relatives here we extend our most heartfelt sympathy. John was an honest man, a reliable friend, and a generous hearted fellow. He was well known amongst the typographical fraternity in the Ottawa Valley. (reprinted from CP Herald)"
The Carleton Place Herald - Wednesday Feb 22, 1888
Tribute to a Typo.
The following has been sent to us from Butte Typographical Union, Montana, for publication. It explains itself:

"January 12 1888, John F Weeks died. Butte Typographical Union thereby lost an able officer and member, and we a friend. He was one who loved his trade, and any and everything which would tend to elevate his fellow-workmen to the dignity and standing of his art. He had a firm faith in unionism. In the Chapel he was always fair; in the Union an able, wise counselor, and true; in his family devoted and affectionate; and in all matters honorable. To him consistency was used as a measure, with a knowledge on man, well knowing that there are always present conflicting interests, to which he brought his experience and counsel as a means of creating harmony, but at all times he gave a cheerful, hearty, prompt and generous support to law as outlined by the will of the majority. He stooped to no ignoble action, brave in his convictions, content with the love of his family.

"To this Union he brought an Ottawa (Canada) card, and for an extended period prior to his connection with the Union, he was with Allen Brothers on the Carleton Place Herald, Canada. In Butte he was a member of the Inter-Mountain news room Chapel.

"We would recommend that all Chapels under this jurisdiction, and our charter and place of meeting, be suitably draped for period of thirty days.

"We would recommend that a copy hereof be spread at length upon the minutes of this Union; that a copy of the same be published in each, the Craftsman, Washington D.C., the Butte City papers, the Carleton Place Herald, and a copy transmitted to the family of the deceased, and to Ottawa Typographical Union No. 102.

Butte Typographical Union, No. 126."
1930 Spokane Census
Name: Matilda Weeks
Home in 1930: South Moran, Spokane, Washington
Age: 69
Estimated Birth Year: about 1861
Birthplace: Ireland
Relation to Head of House: Mother-in-law
Race: White
Household Members: Name Age
Benjamin Keller 60
Maud Keller 50
Matilda Weeks 69
Butte Cemeteries
We only know of three of John's four children. However, there are graves in the Butte area that could belong to his forth child. This is only speculation, but hopefully we can learn more.
Mountain View Cemetery, Butte
Weekes, John T. died 1951, born 1882
Weeks, Arthur. died Jan 10, 1919. Age 32 years. [born c.1887]
Weeks, Ann P. died 1969 born 1895. Inscription: "Sister"

Mount Moriah Cemetery, Butte
Weeks, Miss Verna 07-13-1905, Age 19 years [born c.1886]
---
Maud A. Weekes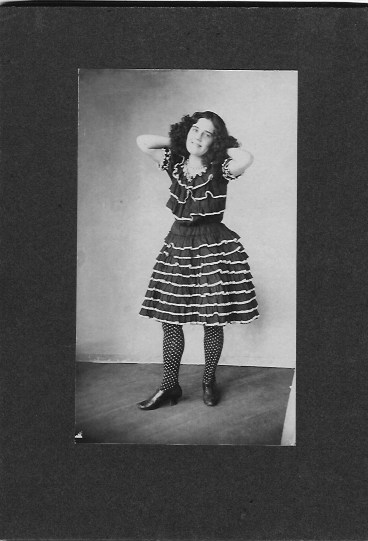 Maud Weekes Keller was a Vaudeville performer and she and Frank worked together in a touring musical group.
Maud and Frank appear in the 1910 Spokane Ward 4, 1920 and 1930 South Moran, Spokane, Washington censuses.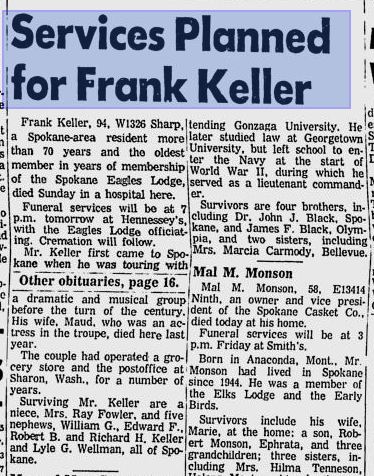 ---
Helen (Nellie) Matilda Weekes
Helen Matilda Weekes 1897
Perth Expositor, March 27, 1884
"Birth - At Carleton Place, on March 14, 1884, the wife of Mr. John F. Weekes, of a daughter." [Helen Matilda Weekes]
Grant Wellman was born in Spokane WA. In his early years he worked for the city of Spokane. Grant and Helen divorced after a few years of marriage.
Helen married Ross Cogswell, and the moved to Sharon Washington where they farmed. Her brother Freddie Weekes was a professional prize fighter. He lived in Butte, Montana.
---
Lyle Grant Wellman
Lyle farmed at Sharon Washington (now nonexistent). It was between Valleyford and Moran Prairie.
---
Jack Eugene Wellman
Lyle (age 36), Alice (age 32) and Jack (age 10) appear in the 1940 Spokane WA Area H Census at 2324 6th Avenue, Spokane, Washington.
WELLMAN, Helen Elizabeth "Betty"
Passed away on July 19, 2011. She was born on March 24, 1930 to Marvin and Catharine Riley at Deaconess Hospital in Spokane, Washington. Betty grew up in Spokane and graduated from Lewis and Clark High School in January 1947. After graduation, she attended Kinman Business School and was employed at Shaw & Borden Office Supply for several years. In May 1950, Betty married the love of her life, Jack E. Wellman. They were married for 56 years until Jack's passing in 2006. Betty is survived by her four children: son, Bob (Kathy) Wellman of Chewelah, daughters, Joan (Rick) Haynes of Nine Mile Falls, Carol Graham of Spokane and Barbara Benner of Monroe, WA; six grandchildren, Joey, Brian, Kaylene, Alyssa, Micheala and Michelle; six great-grandchildren with one on the way and sister, Kay Morgan of Helena, MT, numerous nieces and nephews. A Memorial Service will be held Saturday, July 23, 2011 at 3 PM at Riverview Retirement Community Chapel, 1801 E. Upriver Drive, Spokane. In lieu of flowers, donations may be made to the Vanessa Behan Crisis Nursery, 1004 8th Ave, Spokane, WA 99202 or charity of one's choice. Arrangements entrusted to: Hennessey Smith Funeral Home.
---
Freddie Weeks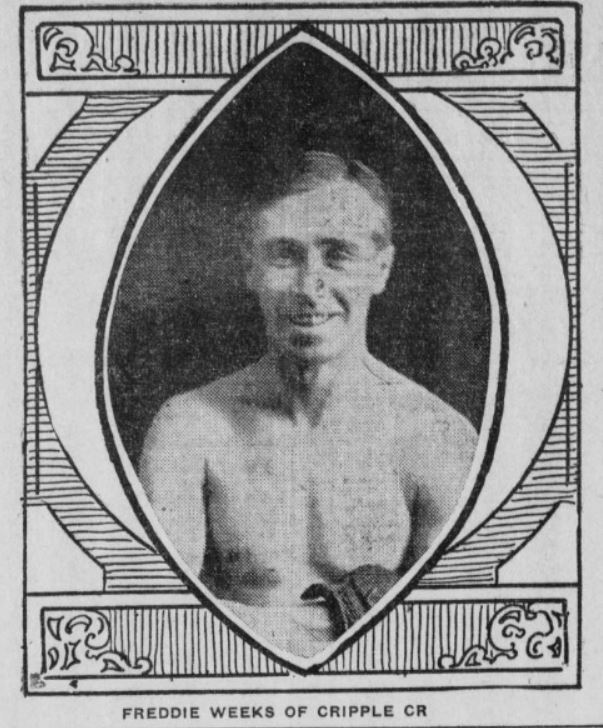 Freddie Weeks (he seems to have misplaced the third "e" in "Weekes) was the son of John F. Weekes and Matilda Morrow and the grandson of James Weekes and Anna Smith. Most of the family moved to the Spokane area around 1900, but Freddie stayed in the Montana and Colorado region. From The Nelson-Wolgast Fight and the San Francisco Boxing Scene, 1900–1914 - "... Freddie Weeks, a fellow whose career had taken flight in the mining camps of Montana and Colorado. ...".
Freddie's professional boxing career ran from 1904 (age 21) to 1914 (age 31). In 1907 and 1909 he fought Abe Attell for the World Featherweight Title, but lost. After that we have lost track of him.
Thanks to BoxRec and The Cyber Boxing Zone Encyclopedia -- Old Timer for details on Freddie Weeks' boxing career.
" Freddie Weeks
BORN Fought out of Cripple Creek, Colorado
WEIGHT 120-135 lbs
Weeks was a scrappy fighter who could fight with the best; He was quick and had no fear.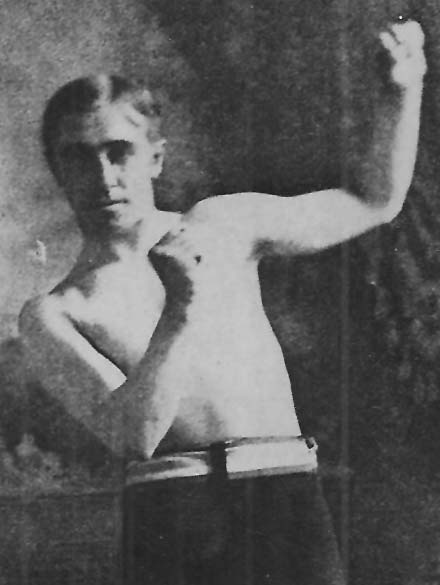 During his career, he defeated Monte Attell, Joe Sieger, Jimmy Walsh and Grover Hayes; Also, he scored draws with Maurice Thompson and Frank Carsey but met his match in Abe Attell on two occasions "
From Mark Allen Baker's The Fighting Times of Abe Attell
"As the dust had settled a bit in Los Angeles, Attell settled in New York. "The Little Champ" did, however, agree to meet Freddie Weeks for twenty rounds, before the Pacific Athletic Club on October 29. In the face of all the recent reports, area boxing fans were excited: it was the champion in a title defense. The only drawback appeared to be Weeks, whom few had any knowledge of; Weeks had never fought on the West Coast. The Cripple Creek, Colorado, resident had few fights to his credit, with wins over Grover Hayes and jimmy Walsh. Abe's brother Monte was also a Weeks knockout victim. A bit of publicity around Weeks. it was believed, would quickly solve the problem.

Suffering from a severe cold, Attell was unable to immediately train for his fight with Weeks - not until the end of the month, anyway. He was generally silent with regard to his personal life, so many were surprised to learn from the Herald that the fighter had converted his faith: "Since he was last here [Los Angeles) Attell has changed his faith and is no longer of the Jewish belief, on behest of his wife [Ethel] the champion joined the Catholic Church, and from now on will worship accordingly to the belief of the denomination." Now attending Mass, Abraham was sincere about his conversion and even made his ring contests the subject for prayer. Attell declared to the press, "No more running around town for me. I have changed my faith and, of course, my way of living. The belief of my church does not permit me to act as I formerly did, and I will live strictly according to the creed in which l have faith."

It was what the fans of Los Angeles wanted, what Abraham Attell so much desired, perhaps even prayed for, and what Tom McCarey needed: a decisive fourth-round knockout of Colorado boy Freddie Weeks by the undisputed featherweight champion. Weeks was just no match, as Attell turned up his game to the champion's setting. It turned out to be the perfect event at the perfect time. As stated by the Call:

In the first round before the fight had progressed as much as a minute Attell sent a swift right cross to Weeks' jaw and the Cripple Creek boy staggered back, dazed and tottering. It was evident to every spectator that Attell could have knocked him out then without effort, but he refrained from doing so. He punched his staggering opponent with light jabs and with both hands and Weeks held tightly· The referee [Charles Eyton] separated them several times. Weeks clinging to Attell closely. When the round ended the Cripple Creek boy was weak and groggy.

Two humdrum rounds followed, as Attell toyed with his opponent. Weeks could not land, as he was too slow a match for Abe's footwork. Then came the fourth round. As Attell was walking into his opponent, he delivered a stiff right punch directly to the point of the jaw of Weeks. Dazed, Weeks staggered and fell to the mat. The fight appeared over as Referee Eyton counted, but Weeks slowly gained his footing. He then took another vicious blow by Attell and went down again. Twice more the cycle occurred before the fighter's seconds, seeing Weeks battered on the mat, threw up the sponge."