Morris Grant Baker and Eldora Mabel Wright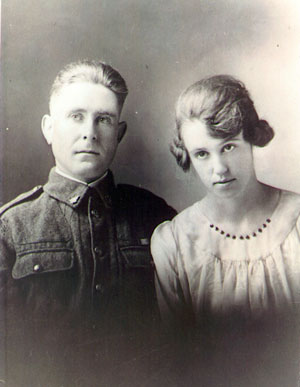 Morris Grant Baker and Eldora Mabel Wright
June 18,1919
Morris Grant Baker was born in Winchester, Ont. in 1893. He died in New Westminster B.C. in 1958.
John Leonard Baker and Fred Baker took their families from Winchester, Ontario to Saskatchewan in May of 1903. They had been preceded by Andrew Baker, who arrived in Saskatchewan in July of 1902. They made the trip by train, stopping in Smiths Falls, Carleton Place, then on to Weyburn, Saskatchewan (founded in 1899), with nothing more than what they had in their suitcases and hands. John Leonard and Emily had two children, ages 9 and 11 (Morris Grant and Nora) with them. John and Emily's family lived in a tent that summer and part of their stable in winter until March 1904 when they built a frame house 12'x14'. The Stable was of sod and frame and was 24'x40'. They did not break any land for crops in all the years they were there. They had 2 horses, 22 cattle and 8 hogs when they first went there. They had as many as 36 cattle later on. The patent for their land title was issued April 27, 1906. We don't believe they stayed there very long after they received title to their quarter section of land. John Leonard and Emily returned to Ontario after four years.
After John Leonard's family returned to Huntley Ontario, Grant returned to the west. At some point, Grant went to the Claremont area of South Dakota to find work where he got a job with August Tisher. He went to visit a friend, who had a room at Grandma Gibbs. Here Grant met Eldora Wright.
Grant left the area and joined the Canadian Army in the 53rd Bttery as a Gunner. He was discharged due to damages to his hearing. Grant later returned to Claremont, and Eldora and Grant were married June 18th, 1919. They went to homesteaded in an area called Spruce Creek near Kindersley, Sask. and later they moved into Kindersley, where Morris Grant's children were all born. They homesteaded land at Chitek Lake, Sask. where they built a log cabin. Their next move in 1943 took them to Surrey, BC where they operated a restaurant and pool hall in Kennedy Heights.
---
Eldene Morris Baker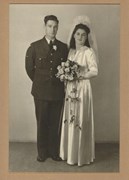 "Ed Baker, 81, of Henderson died Monday (Feb. 25, 2002) in a local hospital. He was born May 26, 1920, in Saskatchewan. A resident for 12 years, he was a retired automotive assembler and World War II Air Force veteran.
He is survived by his wife, Eileen; one daughter, Beverly Baker of Las Vegas; two sons, Chet Baker of Las Vegas and Jerry Baker of Port Hueneme, Calif.; one brother, Irwin Baker of British Columbia; two sisters, Thelma Hall of Surrey, British Columbia, and Wilma of Canada; eight grandchildren and four great-grandchildren.
A memorial service will be 9 a.m. Thursday in Palm Mortuary, 7600 S. Eastern Ave. The family suggests donations to the American Heart Association, 6370 W. Flamingo Road, Suite 1, Las Vegas, NV 89103."
"Eileen "Mills" Baker , passed away peacefully at Nathan Adelson hospice after fighting final stages of Alzheimer's in Las Vegas, Nevada, on Saturday August 25, 2018 at 1:44 pm.

She was born on Saturday 7-11-1925 in Little Bras D'Or Cape Breton Island, Nova Scotia, Canada to Paul Mills and Amelia Mills (Bourque), as the youngest of 17 children. She married Eldene Morris Baker on June 15, 1943 in Joggins Nova Scotia and remained married for 59 years until his passing in 2002. She had three children Chester Morris Joseph Baker, Gerald Paul Grant Baker, and Beverley Ann Baker. She was preceded in Death by her Husband Eldene and Son Chester and all her siblings She moved to Los Angeles in 1955 and Became a US Citizen in 1959. She was a loving wife, mother and Homemaker.

She was baptized at St Joseph's Church in Little Bras D'OR on 7/12/1925 and loved her family and God. She had a great sense of style, always kept a beautiful home, and always had her hair done. She will be remembered as being soft spoken and kind. In her retirement she enjoyed Gambling and Eating out. She had a love for animals and fondness for cats.

She is survived by Son Gerald "Gerry", Daughter Beverley "B", grandchildren Teresa Chase, Shawn Sadler, Eddie Baker, Sherman J. Sadler "Jr", Michelle Baker, Paula Sadler, Crystal Cools, Shawna Propst, Great Grandchildren Casey Twisdale, Emily Taber, Kyler Wilson, Chase, Gage, Ayden, Sephyeara, Corey, Great-Great Grandson Camden Twisdale, Niece Jeanette McKinnon, Yvonne Gilbert, Diane Weaton, and many, many nephews and nieces in Canada

A Private Celebration of Life will be held on October 7, 2018 for family & Friends followed by a Potluck Dinner serving her favorite foods & Music. She will be honored by dressing fashionably in her favorite colors of Rose, Mauve, Light or Sky Blue.

Flowers, gifts, & Donations can be sent to 711 Autumn Moon Drive, Las Vegas, Nevada 89123

Donations may be made to Alzheimer's Research & Treatment in her honor"
---
Sherwood Wayne Baker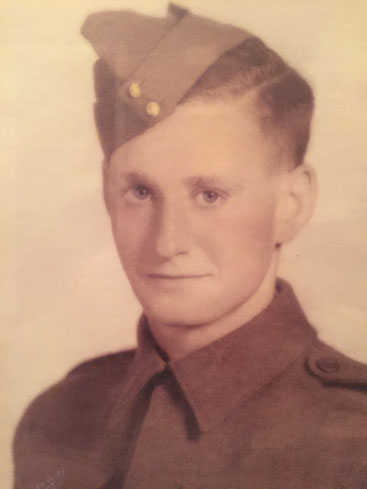 Sherwood Baker was born in 1925 in Kindersley Saskatchewan and died in Bruderheim Alberta on November 30th 1989. He served in World War II. Sherwood had 4 children: Sherlynne, Melodee, Marvel and Sherwood II.
---
Wilma Baker and Lucien Joseph Caron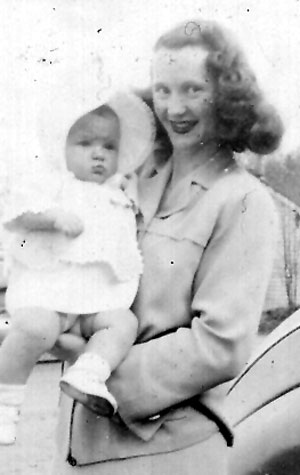 Wilma Baker and Myrtle's Sharon - 1949
---
Thelma Baker and Morris Hall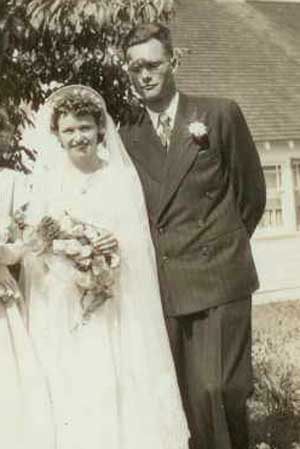 HALL, Thelma October 27, 1927 - November 12, 2014 Thelma passed away at the age of 87. She was a loving mother, sister, grandmother, great grandmother, aunt and friend to many. She was a long time resident of the lower mainland, moving here from Saskatchewan in 1943 and marrying Morris Hall in 1947 at the Trinity Lutheran Church in Delta. Together, they raised eight children: Maureen, Linda, Terry, Dalyce, Donald, Norman, Faye and Gordon. She was predeceased by sons, Larry, and Gordon, as well as our father, Morris Hall. Mourning her loss is her dear sister, Wilma, several nieces, nephews and friends, as well as her much loved grandchildren and great grandchildren. Family and friends gathered in a celebration of our dear mother's life, her generosity, her passion, her love. She will be forever loved, forever missed.
---
Irwin Baker and Eva Ford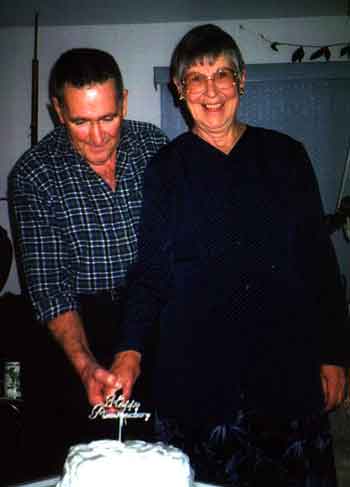 Irwin Baker and Eva Ford (50th Anniversary, 1999)
BAKER _ Irwin L.W. Baker.
The youngest of eight children, Irwin was born September 9, 1929 in Kindersley, Saskatchewan to Morris and Eldora (nee Wright). Irwin grew up on his parents' pioneer homestead in Spruce Creek. In his early teens the family moved to Surrey, BC where his parents operated a restaurant and pool hall in Kennedy Heights. After his marriage to sweetheart, Eva Jean Ford, he labored at a variety of jobs to support his wife and three surviving children, Lyle (Trish), Laurel, and Julie (Tish). Irwin was loved and respected by family and friends as a man of strength, character and humour. His commitment to his family was unfailing and he will be sorely missed by his wife of 57 years, his children, grandchildren, Lisa (Dave), David, Heather (Shane), Michael, Iris (Dean), Jen, Mike, Kim, Rachel (Corey), Amber and great-grandchildren, Brody, Devon and Isaac. He always yearned for and kept a place in his heart reserved for the homestead he loved as a child. Your work is done Now rest your soul In a place of peace Where north winds blow We will always remember The man that you were And take comfort in knowing You suffer no more. October 24, 2006 Memorial donations may be made to the Alzheimer Society of Canada.

Published in the Vancouver Sun on 10/28/2006.