Rebecca Pearl Jones and Robert Billings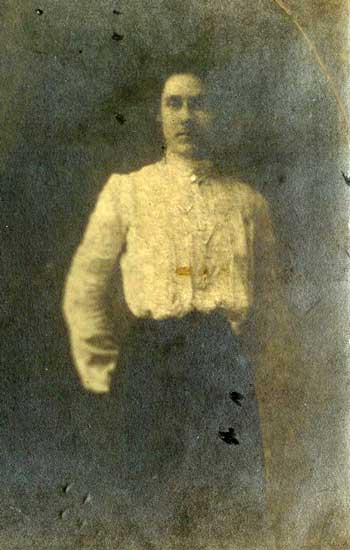 Rebecca (Becky) suffered under an abusive step-mother, and had a rough life, dying young of lockjaw.
In the 1911 census for Mountain, this family is listed as "Billing".
Robert was born about 1879. He is the son of William Billings and Catherine Doran. Robert married second to Mary Matilda Larmour on April 22, 1913 at Kemptville ON. Mary Larmour was born about 1894 in Ontario, Canada. Mary is the daughter of Hormidoyse Larmour and Effie Crowder. Robert passed away about 1933.
Robert Harold Billings
Robert "Harold" Billings was born about 1906 at Mountain Township, Dundas County, ON. Robert Harold, aged 21, married Pearl Natalie Davis, aged 16, on April 1, 1927 at Kingston, Ontario. Pearl was born April 5, 1910 in Cannamore ON. She is the daughter of William John Davis and Sarah Maria Mcmauron.
011426-27 Robert Harold BILLINGS, 21, farmer, Mountain twp - Dundas Co, 12 Corrigan St in Kingston s/o Robert BILLINGS (b. Mountain twp) & Rebecca Pearl JONES married Pearl Natalie DAVIS, 16, at home, Kenmore? Ont., 12 Corrigan St in Kingston d/o William John DAVIS (b. Australia) & Sarah Maria McKINNON wtn: Agnes CAIN of 12 Corrigan St in Kingston & Arthur CAIN of Kingston, 18 April 1927 at Kingston [divorced: 25 October 1948?]
Robert Harold married second to Emily Hughes.