Alfred Jones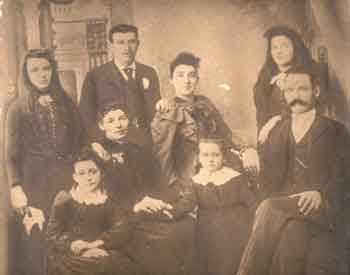 L-R: Annie or Sarah, Rebecca, Elizabeth Liscomb,
Norman Liscumb, Theressa (Liscumb), Hester, Annie or Sarah,
Alfred Jones. c. 1893.
Theressa (Liscumb) said that Alfred Jones, after he married, moved on a farm at Winchester. The place was called Long Point, later West Winchester, now just Winchester. They had one cow, a yoke of oxen, a young horse and a few hens. The house had three chairs, a table, and a stove, an old cupboard for their few dishes, a bed and bureau, an old couch or lounge. Elizabeth cut up her wedding dress to make curtains for the windows, they had paper blinds. They cleared the farm, but first cleared enough land to plant potatoes, sugar cane (? sugar beets), some tobacco and vegetables the first year. In her account to Alfred Everett, Aunt Theressa said that her father made furniture for the house in his spare time.
Alfred made a living as a barn framer.
1901 Mountain Census
Line
Household
Name
Sex
Relationship
Marital
Birthdate
Age at last birthday
39
83
Jones Alferd
M
Head
M
Jun 20 1851
49
40
83
Jones Elizabeth
F
Wife
M
Aug 14 1854
46
41
83
Jones Rebecka P.
F
Daughter
S
Sep 14 1883
17
42
83
Jones Etta M.
F
Daughter
S
Nov 3 1890
10
1911 Mountain Census
Line
Household
Name
Sex
Relationship
Marital
Birthdate
Age at last birthday
16
143
Jones Alfred
M
Head
M
Jun 1851
59
17
143
Jones Mary
F
Wife
M
Nov 1868
42