Sarah Catherine Jones and Gideon Barkley Jr.
Sarah Catherine Jones with Gideon Barkley and Kids
Sarah was a member of the Inkerman United Church. Her brother James Jones married Gideon's sister Mary (Rhoda) Ann.
Gideon in 1881 was a farmer, concession 6 lot 21, Mountain Township. To Osgoode Township, concession 6 lot 23, renting from McRostie, ca 1889. Ran cattle to Ottawa. After 4 years moved back to Inkerman Station. Concession 5 lot 18 - bought east half less road for $3025 from Edward J. Suffell and wife in 1896. Wrote his will in 1913, and was registered 1924. Left the east half to wife Sarah C. and son Edgar Roy.
History of the Jones Family
William Jones Family Tree
MarriageCertificate
Sarah and Gideon's Family
George Wilburn Barkley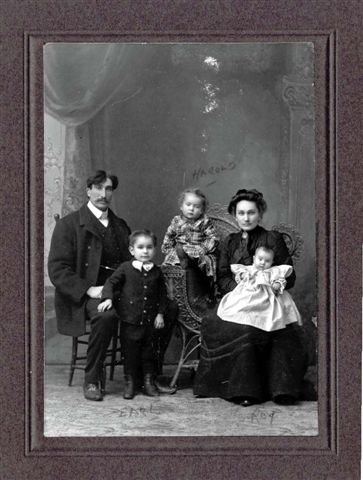 George Barkley, Matilda Kerr and Earl, Harold and Roy
George resided in Winchester in 1916, and later was a painter in Ottawa.
Walter Clifford Barkley
Emma Loretta Barkley
Emma and Moses lived in Winchester until his death in 1926. There they belonged to the Presbyterian Church. After her husband's death Emma lived in Smith Falls and Jasper and finally moved to Perth, where she spent the last two years of her life.
William Gordon Barkley
Lancelot Neil Barkley
Lancelot lost one of his legs due to gangrene caused by blood clots.
Obituary/Newspaper Clipping: February 1962 (Tribune??)
"Dies Suddenly
Born in Mountain Township, a son of Gideon Barkley and Sarah Jones, he moved to Winnipeg sixty years ago. The late Mr. Barkley was married to the former Effie Bilow of Winchester who predeceased him just three months ago. Surviving are three sons and two daughters as well as four brothers and three sisters.
Funeral service was conducted from the Cropo Funeral Home for burial at Winnipeg.
Mr. Barkley was a brother of Roy Barkley, Winchester and Frank Barkley of Inkerman."
Rev. A. Parsons officiating. (Winnipeg Free Press - February 2, 1962)
Died of a massive heart attack.
Interred in Grave 8, Section 10A. Elmwood Cemetery Cropo Funeral Chapel
88 Hespeler Avenue 1442 Main Street, Winnipeg, Manitoba Winnipeg, Manitoba
Notes for EFFIE AGNES BILOW:
Died of Cancer.
Interred in Grave 8, Section 10A.
Last address was 392 Bannerman Avenue. Died at Princess Elizabeth Hospital at the age of 75 years, 3 months, and 26 days. Cemetery records state that she died of Arthritis which lasted 15 days. Next of kin was husband Lance Neil. He was living at 797 Bannerman Avenue, Winnipeg, Manitoba (Harold's address).
Winnipeg Free Press - September 11, 1961 Obituary:
"On September 10, 1961 at Princess Elizabeth Hospital, Effie, beloved wife of Lance Barkley of 392 Bannerman Ave., aged 75 years. Funeral service will be held at 2:00 pm Wednesday in Cropo Funeral Chapel, Main at Luxton, with the Rev. A. Parsons officiating. Interment in Elmwod Cemetery. Mrs. Barkley was born and educated in Winchester, Ontario, and had lived in Winnipeg for the past 57 years. Besides her husbad Lance, she is survived by three sons Hubert of Vancouver, Kenneth and Harold of Winnipeg; two daughters, Mrs. Olive Meder; Mrs. Helen Dorsett; nine grandchildren; a sister Mrs. Minnie Bemister of Vancouver."
Effie Rebecca (Smith / Robinson)
Effie Barkley lived with her maternal grandparents, Wm. & Rebecca Jones from the time she was ten. Later, around 1900, she went to Wolford Township, to keep house for Lester Smith, a brother of her maternal grandmother, when his wife died, and married his son Alfred W. Smith in 1902. A few years after Alfred died she moved with her children to Eastons Corners where she met Ulysses "Grant" Robinson whom she married in 1911.
Alfred Smith was a Farmer ar RR2, Merrickville, Ontario, Lot 19, Concession 2. The same address as his grandfather William Brandiga Smith.
Alfred died of appendicitis, Peritonitis, after 7 days. He ruptured his appendix from lifting timbers when building a new barn.

Jennie "Maria" Barkley
They moved from Winchester to LaForgeville, near Watertown, New York, where they farmed. He was known as "Hack" and changed his last name from the original "Quart" to "Quartz".
James Barnard Barkley
Francis Alfred Barkley

Jessie Myrtle Barkley
Mina Ellinor Barkley
Fanny Franetta Barkley
She did not marry, but went early to Winnipeg and ultimately died there in the same nursing home as her sister Nellie was living in. They were roomates.