William Jones and Rebecca Smith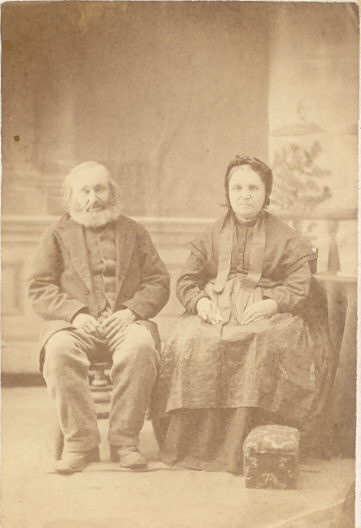 This picture was taken for the "History of Dundas" published in
1905.
History of the Jones Family
The story of Elizabeth Jane Jones and Andrew Kennedy
William Jones Family Tree
Biography from The Story of Dundas, 1905
1851 Mountain Census
ID
First Name
Sir Name
Family place
Occupation
Age
Next
Birthday
Place of
Birth
Religion
Sex
Census
page
1618
William
Jones
Head
Farmer
34
Ireland
Wesleyan Methodist
M
65
1619
Rebecca
Jones
Wife
33
Canada
Wesleyan Methodist
F
65
1620
Elizabeth J
Jones
Daughter
11
Canada
Wesleyan Methodist
F
65
1621
William
Jones
Son
9
Canada
Wesleyan Methodist
M
65
1622
Hanah
Jones
Daughter
6
Canada
Wesleyan Methodist
F
65
1623
James
Jones
Son
5
Canada
Wesleyan Methodist
M
65
1624
Ann
Jones
Daughter
3
Canada
Wesleyan Methodist
F
65
1625
Alfred
Jones
Son
-1
Canada
Wesleyan Methodist
M
65
1871 Mountain Census
DIV
PG
LN
HN
FN
Last
Name
First
Name
Sex
Age
Born
Place
of Birth
Religion
Origin
Occupation
Marital
E2
43
14
164
165
Jones
William
M
55
Ireland
W
Methodist
Irish
Farmer
M
E2
43
15
164
165
Jones
Rebecca
F
53
Ontario
W
Methodist
Irish
M
E2
43
16
164
165
Jones
James
M
24
Ontario
W
Methodist
Irish
Farmer
S
E2
43
17
164
165
Jones
Alfard
M
19
Ontario
W
Methodist
Irish
S
E2
43
18
164
165
Jones
Wellington
M
3
Ontario
W
Methodist
Irish
S
E2
43
19
164
165
Jones
Sarah
F
18
Ontario
W
Methodist
Irish
S
1901 Mountain Census
Line
Household
Name
Sex
Relationship
Marital
Birthdate
Age at last birthday
37
82
Jones William
M
Father
M
Oct 13 1816
84
38
82
Jones Rebecka
F
Mother
M
May 25 1818
82
39
83
Jones Alferd
M
Head
M
Jun 20 1851
49
40
83
Jones Elizabeth
F
Wife
M
Aug 14 1854
46
41
83
Jones Rebecka P.
F
Daughter
S
Sep 14 1883
17
42
83
Jones Etta M.
F
Daughter
S
Nov 3 1890
10
William Jones, born County Fermanagh (sic) Ireland [except some accounts say Fermagh which I can't trace ... it was suggested that Fermagh indicated some landholding in County Armagh to which he may have been born] emigrated to Canada in 1820 with his parents, who stayed in Prescott awhile, then moved to Gouldbourn Twp., Carleton County.
From Gouldbourn Twp., he returned to Kemptville, settling in Mountain Twp. around 1836.
He married Rebecca Smyth (Smith) around 1837, daughter of William Brundige Smith and Elizabeth Squires Smith of Wolford Twp., a wealthy squire type who was some dismayed that his daughter fell for an Irish labouring ruffian who had walked half way across Ont. to have grain ground at the Jasper grist mill for porridge. Rebecca's mother (Elizabeth) was from a wealthy American family named Squires, who departed the U.S.A. along with other UELs following the Declaration of Independence. Smith's descendants now run Smith Farm equipment in Jasper.
William and Elizabeth moved in with daughter Sarah Catherine (Barkley) in Inkerman ON around 1902, and William died there Feb.29, 1908, age 93. Rebecca died May 25, 1906 at Inkerman, Ont. on her 88th birthday. Their gravestone is in Knights Cemetery near Inkerman, Ont.
The original Jones house on Lot 23 Concession 6 in Mountain Township still stands, although it is now incorporated into a larger house. As the original cart track that turned into highway 43 has been widened many times, the house now sits very close to the road The house has been severed from the farm in the ongoing process of rural gentrification and the land is now part of a larger conglomerate. The last Jones to have lived there was Rowat Jones, who died in the late 1960s or very early 70s.
Children:
Elizabeth Jane; m. Andy Kennedy
Rachel Almeda; m. Rudolphus Palmer Feb 9, 1865
In the 1861 Wolford Census, Rachel appears as a servant in the home of her grandparents, William B and Elizabeth Smith
William; m. Katherine
Hannah; m. Joe Feder (Feader) lived Maple Lake, Haliburton, 9 children
Jim; m. Rhoda Barkley - had a large family
Anna; m. Wess Mallery
Alfred; b. June 20, 1851; m. Elizabeth Liscomb, dau. John Wesley and Mary Jane Billingsley Liscomb. M. Feb. 11, 1872 at Vernon or Winchester, Ont. d. Sept 25, 1928; Elizabeth b. Aug 14, 1854; d. April 12, 1902. m.2 Mary Crowder, b. 1858; m. Dec. 16, 1902; d. Dec 19, 1932.
Sarah; m. Gideon Barkley, 13 children r. Inkerman. Wilburn, Walter, Emma, Effie, Roy, Marie, Will, Lancy, Nellie, Frank, Nettie, Jessie, Emma
Wellington

1908 - Death of an Old Pioneer
William Jones, one of the oldest residents of the Township of Mountain, died at the home of his daughter, Mrs. Gideon Barkley, Inkerman Station, on Saturday last at the advanced age of 92 years. Mr. Jones was born in County Fermannah, Ireland, on Oct. 13, 1815. In 1820, one year after the birth of the late Queen Victoria he emigrated with his parents to Canada, residing for a few years at Prescott, removing to the township of Goulbourn, Carleton County, and thence to the township of Mountain where he settled on lot 23 in the 6th concession about seventy years ago. He continued to reside there until a little over six years ago when he and his wife went to reside with their daughter, Mrs. Barkley. About two years ago his wife predeceased him on her 89th birthday. In religion the deceased was a Methodist and in politics a Conservative. He was a strictly temperate man, particularly in the matter of dress and public show, it being his request not to be drawn in a hearse to his grave and to have a plain burial, representative as nearly as possible of his pioneer days. He is survived by seven children, William Jones and Mrs. Feader of Haliburton County, James and Alfred Jones, Mrs. A. Kennedy, Mrs. G. Barkley and Mrs. Mallory of the township of Mountain. He also leaves forty-eight grand children and seventy-five great grand children. The funeral was held Monday at the home of Mrs. Barkley, the religious service being conducted by Rev. A. J. Shea assisted by Rev. H. E. Warren. The remains were interred in Knight's cemetery.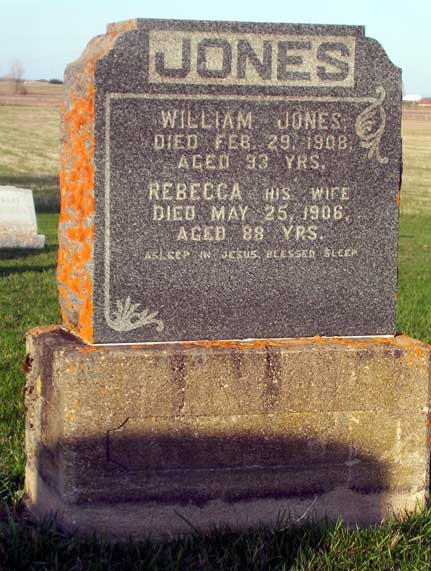 Possible Father to William Jones
The Story of Dundas (1905) states that William came to Canada with his parents. According to his granddaughter Theressa (as transcribed by Alfred Everret) William's mother and sister died during the crossing from Ireland, and were buried at sea.
The 1820 Gouldbourn Twp. census shows a James Jonus as a family head.
The 1821 and 1822 Gouldbourn Twp. censuses show James Jones as a family head with one female adult, and a male and a female child.
Perhaps this James Jones/Jonus was William's father.
Rachel Almeda Jones and Rudolphus Palmer
Parents: William Jones and Rebecca Smith
RUDOLPHUS F. PALMER (ALMEDA ROSANNA FULLER) was born January 04, 1843 in Ontario, and died June 23, 1907 in Renfrew, Ontario. He married RACHEL ALMEDA JONES February 09, 1865 in Leeds and Grenville Co., daughter of William Jones and Rebecca Smith. She was born December 08, 1842 in Mountain Twp., Dundas Co., and died April 19, 1903. The parents of Rodolphus on the marriage registry are Willard Palmer and Almeda Hutton.
Contrary to what is stated in "Horton, The Story of a Township" and in "Founding Families of Admaston, Horton and Renfrew Village", Rodolphus F. Palmer (known as Dolph) was not the brother, but rather the nephew of Andress Palmer.
Dolph was born in Marlborough Township in Carleton County to Willard Palmer and Almeda Fuller but moved at an early age to Horton Township in Renfrew County where the 1852 census shows him living with his mother and stepfather, George Hutton, who died the following year.
As a young man, he moved to Raglan Township where he farmed for a time near the McLachlin Lumber Company supply base at what is now known as Palmer Rapids. However, he returned to Horton Township where he is said to have farmed on Lot 21, Conc. III. The 1871 census lists him with his wife and two children as well as a widow, aged 54 and bearing the surname of Hutton, on 100 acres at Lot 26, Conc. III of Horton. This is the same location occuppied by his stepfather almost twenty years ealier.
Marker in Rosebank Cemetery
In Memory of
Rodolphus Palmer
died
June 23, 1907
aged 64 yrs.
Rachel A. Jones
beloved wife of
Rodolphus Palmer
died April 19, 1903
AE 60 yrs & 6 mos

PALMER
Children of Rudolphus Palmer and Rachel Jones are:
i. ALEXANDER PALMER, b. Abt. 1866, Ontario; m. LUCINDA PHILLIPS, June 22, 1893, Ross Twp., Renfrew Co., Ontario; b. Bef. 1883.

10694-93 (Renfrew Co) Alexander PALMER, 27, farmer, Renfrew, Admaston, s/o Rudolph PALMER & Rachel PALMER married Lucinda PHILLIPS, 22, Admaston, Ross, d/o George PHILLIPS & Abigail, witn: William STEWART & Jennsemia MORROW of Renfrew, 21 June 1893, Ross

When Alexander Palmer was born on 5 February 1866, in Renfrew, Renfrew, Ontario, Canada, his father, Rodolphus Fuller Palmer, was 23 and his mother, Rachel Almeda Jones, was 23. He married Lucinda Phillips on 20 June 1893, in Ross, Renfrew, Ontario, Canada. They were the parents of at least 4 sons and 1 daughter. He lived in Renfrew, Ontario, Canada for about 10 years. He died on 4 January 1940, in Rosetown, St. Andrews No. 287, Saskatchewan, Canada, at the age of 73.

- Gordon Wellington Palmer (1894–1972)
- Campbell Milburn Palmer (1896–)
- Elsie Bell Palmer (1899–1899)
- Norman Alexander Palmer (1902–1975)
- John Henry Palmer (1907– )

ii. ELIZABETH PALMER, b. Abt. 1868, Ontario.

iii. GRACE PALMER, b. September 01, 1879, Ontario; m. DAVID PAYNE, September 03, 1902, Renfrew, Ont.; b. Abt. 1881, Horton Twp., Renfrew Co.

15465-02 David PAYNE, 21, farmer, Horton twp., Renfrew, s/o Jos. PAYNE & Margaret PRICE, married Grace PALMER, 23, Ross twp., Renfrew, d/o Rodolphus PALMER & Rachel JONES, witn: George BUTLER & Louisa MUNRO, both of Renfrew, 3 Sept 1902 at Renfrew

Child: Cecil Rodolphus Payne (March 21, 1903, Renfrew - August 13, 1963, Ottawa) m. Yvonne Dora Larche (December 2, 1909 - October 14, 1962, Ottawa ON)

The 1851 census for Horton Twp. shows Hutton family, E. Methodist, on Concession 3, Lot 26, Horton Twp. Renfrew Co.
Name
Occupation
Born
Age in 1851
George E Hutton
carpenter and farmer
Wolford, Grenville
51yrs
Almenda
Mrs.
Wolford, Grenville
40yrs
Elizabeth E. Palmer
weaver
Marlborough, Carleton
16yrs
Simeon Palmer
Kitley, Leeds
14yrs
Permella Palmer
Wolford, Grenville
12yrs
Rodolphus Palmer
Marlborough, Carleton
9yrs
William H. or A. Hutton
Horton, Renfrew
1 (Sept)
James Jones and Rhoda Barkley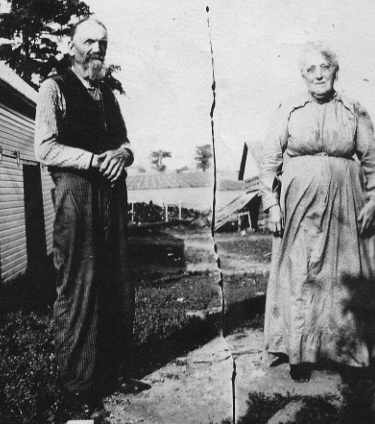 ---
Anna Jones and Enoch Wesley Mallory
Anna Jones
1849-
Spouse: Enoch Wesley Mallory
1849–1902
Parents: William Jones and Rebecca Smith
Children:
Lester Henry Mallory 1871–Deceased
Joseph William Mallory 1872–1946??
James D Mallory 1876–Deceased??
Milo K Mallory 1877–Deceased??
Sarah Rebecca Mallory 1878–1928??
Catherine Mallory 1882–Deceased