Merritt William Tuck and Dinah Phillips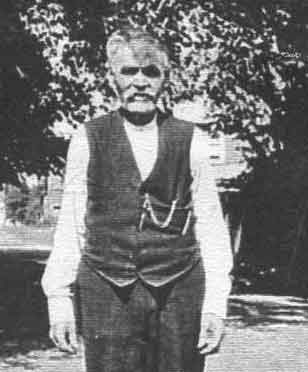 From the Tuck Family web site at MyFamily.com:

"Merritt William Tuck was born at Andrusville on the 17th of May, 1858 and spent his youth at the home of his grandfather, Merritt Orsamus Andrus. At the age of 21 he was given $100 and a horse. At this time the cost of a 100 acre farm in Grenville county was about $400, so he had a reasonable down payment on a farm. He did buy a farm at Otter Lake, Quebec, but soon returned to work for William Pearsons at Merrickville. Here, he was married and his eldest child, Annie was born. He also worked for Watchorn's Woolen Mills and then for the Merrickville Plow and Stove company for many years. During his employment here he contracted pneumonia and lost a lung. Sometime during his life he burnt his feet with quicklime. He was caretaker of the Anglican church in Merrickville for over 30 years.

His grandson, Douglas Gravelle, described him as a very quiet man of very few words. There was no card playing, no drinking and no foul language, in his presence or in his household. His memories of his grandmother are also kindly, even though on the surface she seemed the real disciplinarian in the family. "Mostly she would be mending clothes in the evening, by lamplight, while my grandfather sharpened a scythe or sickle.""
1901 Merrickville Village Census
Line
Family
Name
Sex
Relationship
Married
Birth Date
Age
47
100
Tuck Merritt W
M
Head
M
May 17 1859
42
48
100
Tuck Dinah
F
Wife
M
Mar 28 1872
29
49
100
Tuck Anna
F
Daughter
S
Apr 17 1886
14
50
100
Tuck Hattie
F
Daughter
S
Apr 6 1888
13
1
100
Tuck Grace
F
Daughter
S
Jul 10 1894
6
2
100
Tuck Lucy H.
F
Daughter
S
Sep 9 1896
4
1911 Merrickville Village Census page 6
Line
Family
Name
Sex
Relationship
Married
Birth Date
Age
32
77
Tuck William
M
Head
M
May 1858
53
33
77
Tuck Dinah
F
Wife
M
March 1873
38
34
77
Tuck Lucy
F
Daughter
S
September 1896
14
35
77
Tuck Dorothy
F
Daughter
S
August 1902
8
36
77
Tuck Karl
M
Son
S
January 1908
3
Kenneth James Tuck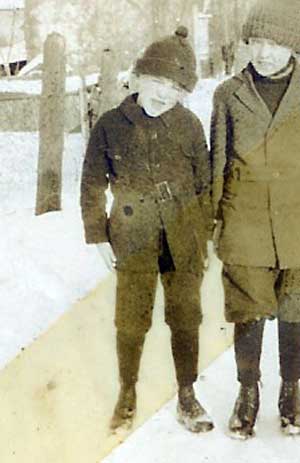 Chris and Ken
Watt, Joyce S.
Posted by Barclay Funeral Home Ltd. on June 24, 2013
Peacefully, at the Brockville General Hospital Garden St. Site on Thursday June 20, 2013, the former Joyce Sonia Tuck of Algonquin. Beloved wife of the late Merrill Watt. Dear mother of Sandra Hughes (Ronald) of Domville, Marilyn Brown (Gerald) of R.R. #2 Brockville, Robert Watt (Mary) of Prescott and Paul Watt (Brenda)of R.R. # 2 Brockville. Dear grandmother of 10 and great-grandmother of 16. Sister of Yvonne Blanchard of Mallorytown, Larry Tuck (Jo-Anne) of Charleston Lake, Dora Cole (Raymond) of Balderson, Wayne Tuck (Faye) of British Columbia, Evelyn Walsh (William) of Brockville and John Tuck (Jean) of North Augusta. Also survived by many nieces and nephews. Predeceased by her parents Kenneth and Ena (Prunner) Tuck and a brother James Tuck. A Memorial Service will be held at the Barclay Funeral Home, 137 Pearl Street East, Brockville on Tuesday June 25, 2013 at 1:00p.m. Interment Pinehurst Cemetery, Playfairville, at a later date. In memory of Joyce, donations to the Canadian Cancer Society or the Heart and Stroke Foundation would be gratefully acknowledged by the family.
Cole, Raymond Edward Thomas
Dad was surrounded by the love of his family when the Lord called him home on Friday, October 17th, 2014 in hospital in Perth. He was the dearly beloved husband of Dora (Tuck) Cole for 56 years and respected father of Gerry (Ellen) Cole, Betty (Ritchie) Lackey, Tom Cole (Marie Bonselaar), John (Cathy) Cole, and Cheryl Cole (Yvon Begin). Raymond was the son of the late Robert Cole, Duncan and Minnie (Majore) McInnes; son in-law of the late Kenneth and Ena (Prunner)Tuck; brother of the late May Cardinal and late Twila Schmidt; brother-in-law to the late Joyce and Meryl Watt, Yvonne (late Kenneth) Blanchard, Larry and Jo-Anne Tuck, Wayne and Faye Tuck, late James and late Gale Tuck, Evelyn and Bill Walsh, John and Jean Tuck. He was the loved grandfather to Chad (Sara), David, Braiden, Teri, Marcy (Jonnie), Tony (Ashley), Chrystel (Chance), Demetria, Edward, Adam, April (Jeremy), Stajia (Hunter), Sara, Justin (Christina), Andre, Chad (Melanie), Brandi (Ty), Dalton (Samantha), Reid (Destiny), and Santana and great Grandfather to Chelsea, Breanna, Faith, Kaine, Logan, Marley, Jack, Sylver, and Elleah. Raymond will be fondly remembered by cherished friends since childhood, Francis Major and Mary Elliott, along with many nieces, nephews, friends and neighbours. Thanks to the wonderful Nurses, Support Staff, the Palliative Care Representative and to Dr. R McLean for their devoted care for our dear Dad during his time at the Perth hospital and to Dave Donaldson. Friends may pay their respects at the Young Funeral Home, Lanark on Sunday, October 19th, 2014 from 1:00 to 4:00 P.M. Mass of Christian Burial will be held on Monday at Sacred Heart Church, Lanark at 10:00 A.M. Interment St. Declans Cemetery, French Line. In remembrance, donations in memory of Raymond to St. Declans Cemetery Fund, Lanark Animal Welfare Society or the Canadian Cancer Society would be appreciated.
William Gerald Walsh
As a result of a snowmobile accident on Saturday February 13, 2010 in Renfrew. William (Bill) Gerald Walsh of Toledo age 48 years. Beloved husband of Julie (Brandow) Walsh. Loving father of William (Bill) J. Walsh of Brockville, Mason J. Walsh, Morgann E. Walsh and Marissa L. Walsh all of Toledo. Also survived by a grandson Bryce Walsh, his parents William and Evelyn (Tuck) Walsh, his paternal grandmother Rose Walsh, a sister Kim Walsh (William Grant), a niece Sarah Barrington all of Brockville as well as several aunts, uncles and cousins. Family and friends may call at the Barclay Funeral Home 137 Pearl St. East, Brockville on Thursday 2-4 and 7-9 p.m. The Liturgy of the Christian Funeral will be Celebrated in St. Philip Neri Church, Toledo on Friday February 19, 2010 at 11 a.m. Interment will follow at St. Philip Neri Cemetery. In memoriams to The Smiths Falls Humane Society or the Canadian Liver Foundation would be gratefully acknowledged by the family.
Christopher Keith Tuck