Mabel Estelle (MacKay) and Irene Maude (Steacy)

Mary (Minnie) Eleanor McGillivray was born 10 Mar 1880, and died 3 Mar 1945. She married WALTER PATIENCE 1 Jan 1907, son of HENRY PATIENCE and MARY McNEIL and raised their family (Mabel and Irene) in Lansdowne. He was born 9 Sep 1875 in Dulcemaine, Ont. (Source: 1881 Census), and died 12 Mar 1947. His 1st wife one child died in infancy.

"012887-07 (Lanark Co.) Walter PATIENCE, 31, carpenter, Canada, Smiths Falls, s/o Henry PATIENCE and Mary Jane McNEIL, married Mary Elenor McGILLIVRAY, 26, Smiths Falls, Smiths Falls, d/o William McGILLIVRAY and Jane WEEKS, witn: Carrie E. WILLIAMS of Toledo and Preston B. KERR of Smiths Falls, 1 Jan 1907 at Smiths Falls."

Notes for WALTER PATIENCE: 1891 Census - Lansdowne Frt C1-2 - with Johnston fam. - age 15 b Ont, Ont b prts Meth. Farm labour.
---
Mabel Estelle Patience and Basil Albert MacKay
After Mabel's death, Basil married Edith Hamel, and had two children, Bob and David. The family moved to North Carolina in 1939 or 40.
St. Thomas Times Journal - 16 March 1955 p7, c5 Died - Mrs Bertha Hamil, 84 years, Mar 14, widow of Meredith Hamil; mother of Mrs John (Mildred) Derbyshire, Mrs Basil (Edith) McKay, Genevieve Hamil and Dr Frederick C. Hamil
---
Marvin Grant MacKay
---
Basil Walter MacKay and Sylvia Orr
---
Victoria L. MacKay
Obituary:
Victoria L. Mackay age 55 of Stevens Point died Tuesday November 15, 2011 at Aspirus Hospital in Wausau, after a courageous 2 1/2 year battle with cancer. Services for Victoria will be held at 2:00 PM on Sunday November 20, 2011 at the Shuda Funeral Home in Stevens Point. Rabbi E. Daniel Danson will officiate. Visitation will be from 1:30 PM to the time of services Sunday at the funeral home. Memorials in lieu of flowers will be established in Victoria's name for the American Cancer Society and the Humane Society of your choice. Victoria was born, January 7, 1956 in Highland Park, IL, the daughter of Basil and Sylvia (Ori) MacKay. She worked for the Penn Corp Insurance Company for 23 years before becoming the executive director at Temple Beth El Synagogue in Northbrook, IL. For more than 12 years. Victoria trained German Shepherds to be therapy dogs, loved to agility train other dogs and sheep herding. She moved to the area in 2010 to be with her family. ... She was preceded in death by her father in 2008.
---
Scott Owen MacKay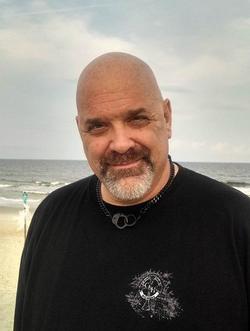 "Scott Owen MacKay of Carolina Beach, North Carolina loved life and especially beach living. Scott was always entertaining, often inspiring and led an impactful life touching the lives of so many.
Scott collapsed at home Thursday January 8th and was taken to New Hanover Regional Medical Center in Wilmington where he passed peacefully on Tuesday, January 13, 2015 surrounded by family in the presence of the beautiful, angelic therapeutic harp music of Carole Bowman Green, a certified Music Practitioner.
The family is most grateful for the close knit community of Island Women .org friends that stayed nearby holding a vigil of love and support. The outpouring of love and support by those who loved Scott has been heartwarming and overwhelming. All the officers from the North Carolina Department of Public Safety-Division of Prisons that visited and all of the amazing staff in the CCU unit of NHRMC that took such kind gentle care of him, we cannot thank you all enough.
Scott was the first New Year baby born January 1, 1960 in Highland Park, Illinois to Sylvia and Basil Walter MacKay. He came into the world to fanfare and would totally get a kick out of this incredible send off.
...
The real heroes are not highly paid movie stars, professional athletes or politicians in this world, they are ordinary people who do extraordinary things. Scott was our hero. He made us laugh till we cried. He was always willing to lend a hand, a kind word or a sarcastic quip. He showed kindness, great depths of compassion and the ability to connect and make you feel like an old friend within minutes.
He was not in any rush to grow up and maintained his boyish charm. Scott was incorrigible and not afraid to color outside the lines or even in the same coloring book as others used. He had a life well lived and engaged in, and loved his community and life on Pleasure Island.
He had an infectious laughter, and his chaotic distractions were contagious as he took you on unimaginable and wonderful side trips and journeys from new bizarre insights to funny and irreverent ways of looking at things or people.
Scott's last wishes were to be an organ donor. He wanted to know that others would be helped and receive hope and a new life from any organs of his that were usable if anything happened to him. Scott will get his wish giving unselfish gifts through the North Carolina Donor Services.
Celebration of Scott's life will be Friday, January 16 at 6 pm held in the outside tent at the Lazy Pirate, 701 N Lake Park Blvd, Carolina Beach. Scott's family requests that in lieu of flowers, memorial donations be given to the Coastal Carolina Chapter of the American Harp Society to further the practice of bedside Therapeutic music in the Wilmington area. Donations may be sent to "AHS-Coastal Carolina Chapter" at the following address: AHS-Coastal Carolina chapter c/o Mrs. Lynne Boney, Treasurer at 315 S Front Street Wilmington NC 28401-4416"
"Scott MacKay calmly passed on January 13th at the New Hanover Regional Medical Center in North Carolina. He went out in a way befitting his life, soaking up love and attention, and carrying a flair for the dramatic. Scotty collapsed the morning of January 8th, and took his last breath surrounded by family and friends as live harp music filled the room. He would have loved every over the top minute. Scotty was my father, a husband, a son, a brother, and a friend, but most of all he was beyond hilarious, endlessly inappropriate, and gentle despite his intimidating appearance. He followed the rules and made sure others did the same; he always maintained his want to police the world. He took his affinity for rule following seriously, and worked as a Correctional Officer in Pender County, North Carolina. He demanded respect by giving respect in return, and never was he caught looking down upon another. Both the Prisoners and his fellow Correctional Officers fell in love with his unique optimism, calm demeanor, and thoughtful understanding.
Scotty loved to meet new people, not to share his story, but to listen to theirs. He was always searching for new perspectives, and would shape his life around the new information he gathered. When he was wrong he would admit his mistakes, and when he was right he would never rejoice. He could strike up an engaging conversation with a complete stranger, and he gained favor from those who are hard to please, including his parrot Vegas who claimed Scotty as her own, refusing to let anyone near him without an angry screech and an immediate attack.
Scotty had a quick wit, a wicked tongue, and a laugh that could be heard over a crowd. Never once did he show a mean spirit, and this afforded him the ability to make jokes at the most inappropriate times without repercussion. He loved those who could return his insults with insults of their own, and nothing pleased him more than a clever retort. Scotty was a big man, extremely strong from many years delivering building supplies for Wolohan Lumber, and rarely did he reveal weakness. Through to the end he never complained, he never whined, and he took what came his way with courage, empathy, and charm. I am honored to call him my father, my role model, and my best friend.
... Scott was preceded by his father Basil Walter MacKay and his sister Vicky MacKay.
Family and friends are encouraged to join us as we relive the ridiculous antics of Scott MacKay on February 21st at the Shuda Funeral Home in Plover from 2-4pm. "
---
Audrey Irene MacKay and Louis (Pat) DeVaux Stubbs
Mrs. Stubbs, 79 of Charlotte died Tuesday, January 5, 2010. Born in Landsdowne, Canada on January 7, 1930, Audrey was the daughter of the late Basil and Mabel MacKay. Raised in the Newton-Conover area, she graduated... Published in Charlotte Observer on Jan. 10, 2010
---
Irene Maude Patience and Thomas Ford Steacy