Robert John Ready, Elizabeth F. Bolton and Zeredia Baker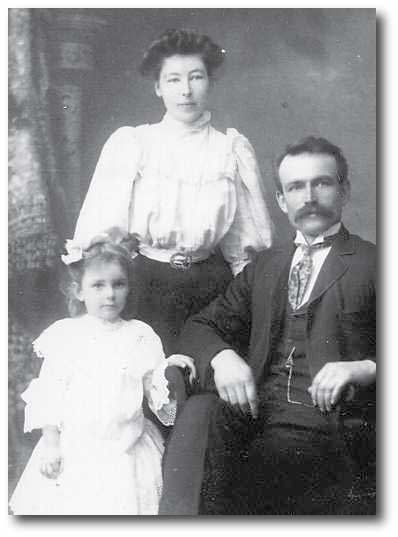 Bob Ready with Elizabeth Bolton and Roberta
1877
Robert Ready born.
1879
Elizabeth Bolton born.
Zeredia Baker born.
1901
1901 Census - Bastard and Burgess Twp., District B1, Family 78
Loc #
Surname
Given Name
Sex
Relat.
Status
Birth
Age
Place of Birth
Origin
Religion
Occupation
292
Ready
Robert J.
M
Head
M
Aug 23, 1877
24
Ont.
Irish
Church of England
Labourer
293
Ready
Elizabeth
F
Wife
M
Nov 11 1881
21
Ont.
Irish
Church of England
1911
1911 Bastard and S. Burgess census, pg. 6:
Ready, Robert, brother in law to Constance Dowsett, living at Lot 27, Con. III, born August 1876, age at last birthday 34, Irish origin, Canadian, Anglican, farmer;
Ready, Roberta, born July 1902, age at last birthday 8, Irish origin, Canadian, Anglican.
Ready, Sereda, sister to to Constance Dowsett, living at Lot 27, Con. III, born December 1879, age at last birthday 31, Irish origin, Canadian, Methodist;
Grave stone: Portland New Emmanuel Cemetery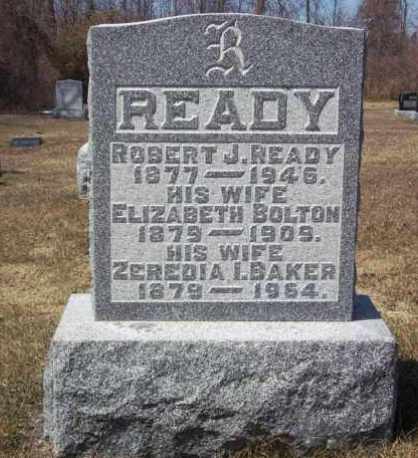 Robert J. Ready / 1877 - 1946. / His Wife / Elizabeth Bolton / 1879 - 1909. / His Wife / Zeredia I. Baker / 1879 - 1964
---
Della Eileen Ready and Wilfred Jordan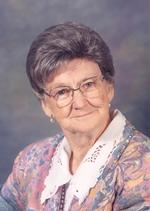 Obituary
At St. Lawrence Lodge, Brockville, on Saturday, August 6, 2011; Della Eileen (Ready) Jordan of Smiths Falls, at the age of 89 years. Beloved wife of the late Wilfred Jordan. Loving mother of Barbara Galbraith and her husband George of R.R. 4 Brockville. Loving grandmother and great grandmother of Kimberley Findlay, her husband Ritchard and children Matthew and Jacob; and of Katherine Eyre, her husband John and children Ryan and Jason. Predeceased by her sister Roberta Weeks. Family and friends are invited to pay their respects at the Calvary Bible Church, 15 Beech Street, Smiths Falls on Tuesday, August 9th from 11:00 a.m. until the time of the Service in Celebration of Eileen's life at 1:00 p.m. A reception will follow the service, after which interment will take place at Roselawn Memorial Gardens in Maitland. Arrangements in the care of the Irvine Funeral Home and Chapel, 4 James Street East, Brockville.
Constance Baker
Zeredia and her sister Constance (Connie, c.1877 - ) were the children of William Baker and Jane Bass. Connie's first husband was George Philip Dowsett (1863 - 1908).
008551 & 008555-1897 (Leeds Co) George Philip DOUSETT, 34, Farmer, Bastard Tp., same, s/o James DOUSETT & Eliza WHITBY, married Constance A. BAKER, 20, South Crosby, same, d/o William BAKER & Jane BASS, witn: W. A. SINGLETON, J.B. BAKER, both of South Crosby, 27 Sept 1897 at South Crosby
George Dowsett's grave stone at Forfar Methodist Cemetery:
DOWSETT
George P. Dowsett
Died Oct. 23, 1908
Aged 45 years
Philip, infant son of G.P. and C.A. Dowsett
Died Apr. 10, 1902
Aged 1 dy.
Connie's second husband was John W. Steele (1866 - 1950).
Grave: Cataraqui, Kingston