Andrew Roy Weekes and Roberta Ready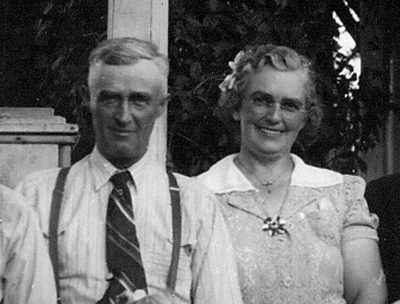 Roy Weekes was born at Lombardy, the son of Jack Weekes and Hannah Gallagher.
Roy lived on his father's farm until after his marriage to Miss Roberta Ready of Portland. He helped his father with the farming and later was employed by the township and worked on the roads.
14477-23 Andrew Roy WEEKES, 25, farmer, Elmsley Twp., same, s/o John WEEKES (b. Elmsley South Twp.) & Hannah GALLAHER, married Roberta Doreen READY, 21, Burgess North, Elmsley, d/o Robert READY & Elizabeth BOLTON, witn: Alice E. & Marjorie ELLIS of Smith Falls, 30 Oct 1923 at Smith Falls.
Ill health later caused him to cease work and Mr. and Mrs. Weekes moved to Smiths Falls.