Annie Maria Weekes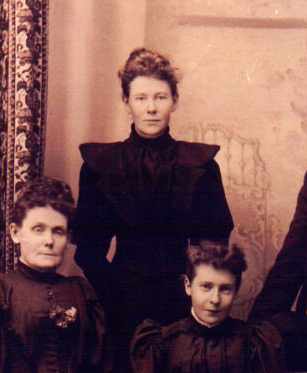 Annie Weekes, with Charlotte and Minnie
Annie and John Perrin's Marriage Registration
Clarence's Death Registration
1893
Annie Weeks and John L Perrin Married on Tuesday, May 9, 1893 in Smiths Falls, Lanark, Ontario.
006504-93 (Lanark Co) John L. PERRIN, 26, carpenter, Montague, Smith Falls s/o Thomas & Sarah married Annie WEEKS, 25, Lombardy, Smith Falls d/o Edward & Mary wtn: George O. WEEKS & Bella PERRIN, 9 May 1893 at Smith Falls
1921 Smiths Falls census
Surname
Given Name
Town
Address
Relationship
Marital
Age
Birth Yr
Birth Place
Father Birth Place
Mother Birth Place
Origin
Occupation
Hawkes
Annie
Smiths Falls
37 McGill
Head
W
50
1871
ON
Ireland
Ireland
Irish,
Hawkes
Evelyn
Smiths Falls
37 McGill
Dau.
S
21
1900
ON
ON
ON
Eng.
Hawkes
Clarence
Smiths Falls
37 McGill
Son
S
20
1901
ON
ON
N
Eng.
Machine
Hawkes
Vera
Smiths Falls
37 McGill
Dau.
S
18
1903
ON
ON
ON
Eng.
Student
Hawkes
Verna
Smiths Falls
37 McGill
Dau.
S
18
1903
ON
N
ON
Eng.
Student
Hawkes
Mary
Smiths Falls
37 McGill
Dau.
S
11
1910
ON
ON
N
Eng.
Student
1933 Smiths Falls Voters List
• HAWKES, Annie, McGill, 81, 1/2, 121 HW, o, mw, SF
1940 Smiths Falls Directory
• Hawkes, Mrs. A.; 37 McGill St. N.
---
Florence Eleanor Hawkes and Ollie Wright Phillips
---
Vera Hawkes and James Morris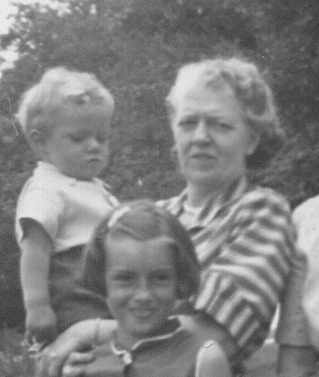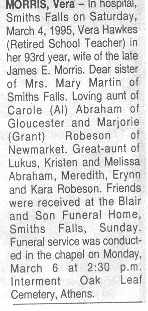 ---
Mary Hawkes and Foster Martin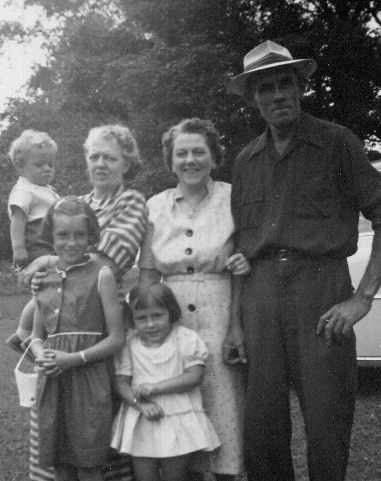 Allan, Marjorie, Vera Morris, Carole, Mary Hawkes
(Martin) and Foster Martin
Mary L. Martin
In hospital Smiths Falls, on Saturday, September 27, 2003. Mary Lillian Hawkes in her 94th year. Beloved wife of the late Foster Martin. ... Friends may pay their respects at the Blair & Son Funeral Home, Smiths Falls, on Monday from 2 to 4 and 7 to 9 p.m. Funeral service will be held in the Chapel on Tuesday, September 30th at 2:30 p.m. Interment Maple Vale Cemetery. In remembrance donations made to the Heart & Stroke Foundation would be appreciated. (Ottawa Citizen, September 29, 2003)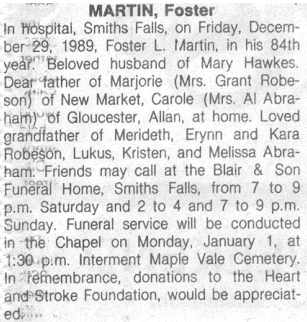 ---
Allan James Martin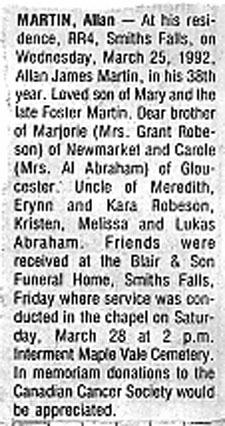 ---
Marjorie Eleanor Robeson (Martin)
Marjorie Eleanor Robeson (Martin) – Passed away unexpectedly on Wednesday January 4th 2017, in her 70th year. ... Marjorie will be greatly missed by her friends, Sorority Sisters and Jersey girls. Marjorie was an avid Gardener, and would spend hours toiling in her English Garden. She loved baking and storytelling with her grandchildren. She was a dedicated and well respected teacher for over 20 years with the York Region District School Board. She spent her retirement years living life to the fullest, travelling and enjoying time with her family and friends. In lieu of flowers, donations to the Stronach Regional Cancer Centre would be greatly appreciated. Visitation will be held at the Roadhouse & Rose Funeral Home, 157 Main St. South, Newmarket on Tuesday January 10 from 7-9 p.m. A Memorial Service will be held in the chapel on Wednesday January 11 at 11 a.m. with a lunch reception to follow.