Edward's Entry in Leavitt's History of Leeds and Grenville
Edward's List of His Children
Edward's Last Will and Testament
Edward's Obituary
Edward's 1856 letter of reference for Margaret Jessop
Edward's Death Registry
Mary Jane's Death Announcement
Mary Jane's Death Registry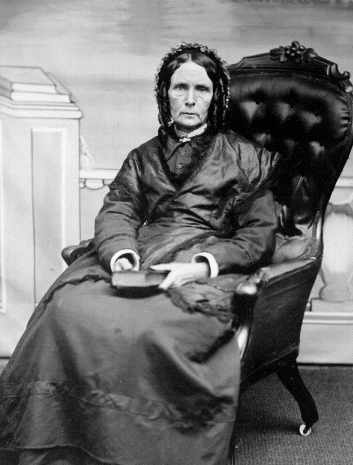 1817
Edward Fullerton Weekes was born in County Antrim in 1817, based on census and death records.
1827
Mary Jane McAuley was born in County Derry, Ireland in 1827.
1833
Mary Jane's family came to Canada in 1833, settling on what had been the Gould farm.
1839
Edward departed Tipperary and came to Canada in 1839 (1844 according to brother James' obituary, which is incorrect) with his parents and four of his brothers and sisters (James, Alexander, Charlotte, another sister - Joseph Jr died in Barbados in 1841). He taught school for a brief time while living in Smiths Falls at the Ballantine or Hutton school, and then bought 50 acres of the Arnold lands where Bay Road now meets Highway 15.
"His first occupation here was school teacher, and he taught in Wolford and Kitley." - from Edward's obituary.
1842
Marriage Registers of Upper Canada / Canada West - Johnstown District 1799-1851: "James Connerty of Kitley, Yeoman, to Charlotte Weeks of Elmsley, 21 Sept 1842, Elmsley, by banns. Rev. Romanes. Wit. Edward F. Weeks, Teacher, of Kitley, and Robert Hunter, of Elmsley, Yeoman."
1843
In 1843, Edward was a witness at the wedding of John Connerty, where he is recorded as a Smiths Falls grocer.
In 1843, Edward married Mary Jane McAuley. (The 1861-62 Map of South Elmsley Township shows the property owned by J McCauley on Lot 12, Concession III.) From the Johnstown District Marriage Register 1787-1850, Marriages performed by Rev. George Romanes Church of Scotland, "Sept. 1 1843 Edward F. Weeks, of Elmsley, Merchant. Mary Jane McAuley, Elmsley, Spinster. Married at Elmsley, 1st September 1843 by License. Witness John McAuley, William James, Elmsley, Yeomen."
Rev. George Romanes had a distinguished career, including many years at Queens University before returning to England in 1850. Among others in the area, he conducted weddings for John Connerty and Mary Conley (1843), Edward Weekes and Mary Jane McAuley (1843), James Connerty and Charlotte Weekes (1842), William Ringer and Hannah McAuley (1844), and Johnston Hutton and Sophronia Olmstead (1844). His son George John Romanes had an illustrious career in England as a philosopher, biologist, neurologist and respected author.
1844
Edward later went to the village of Lombardy, where over the years he took on a number of responsibilities including: merchant, hotelkeeper and township clerk. He operated a store near the intersection in Lombardy from 1844 to 1845 and later a hotel or tavern from 1848 to 1850. The hotel was right across the street from the Town Hall, according to a village map of 1860. He was a township assessor in 1845 and 1846 and clerk of the town meeting in 1847. He was also superintendent of local schools in 1845 and again in the 1850s.
1850s
Oct. 12, 1850 District of Johnstown By-Law IX: Edward F. Weeks appointed Superintendent of Schools for Elmsley and Kitley.
February 1, 1851 District of Johnstown By-Law XVI: Edward F. Weekes appointment as Superintendent of Schools for Elmsley repealed and Rev. William Atkin appointed.
January 28, 1853 District of Johnstown By-Law XLIX: "2. And be it further enacted, that Edward F. Weeks be appointed Superintendent of Schools for the said Township of Elmsley for the residue of the present year, and the said Edward F. Weeks is hereby appointed such Superintendent for the said Township." in place of the incumbent Elisha Landon.
1854-55 Sessional Papers, No. 3, Thirteenth Volume of the Journals of the Legislative Council of the Province of Canada: Edward F. Weeks listed as Superintendent of Schools for Elmsley South.
1856 Sessional Papers, Appendix No. 2, Fourteenth Volume of the Journals of the Legislative Assembly of the Province of Canada: Edward F. Weeks listed as Superintendent of Schools for Elmsley South.
Weekes led the local Orange lodge during the early 1850s. He became the Grand Master in 1852, District Master in 1853 and was appointed a Grand Lecturer for the area "East of Toronto" for 1854-55. "He was appointed Justice of the Peace in 1852, and was Township Clerk for a number of years at Lombardy, and was always at the head of municipal affairs." - from Edward's obituary
He was one of the biggest landowners in the village. He bought three acres on the south side of the road to Smiths Falls in the 1850s, near the Duffield shoemaking shop.
1851 Census for the Township of South Elmsley
VISIT
NAME
GIVEN NAME
OCCUPATION
PofB
RELIGION
OTHER RES.
AGE
78
Weeks
Edward F.
District surveyor
Ire
PCC
31
78
Weeks
Mary Jane
Ire
PCC
23
78
Weeks
Joseph
CW
PCC
6
78
Weeks
Jane Sandra
CW
PCC
4
78
Weeks
Elisa
CW
PCC
2
78
Weeks
Charlotte
CW
PCC
1
78
Ritchie
Mary Ann
CW
CE
14
1857
June 4, 1857 Edward became the postmaster for South Elmsley (subsequently Lombardy) until November 1859.
1859
In 1859, he was appointed Justice of the Peace. Edward was an agent for many companies. He made insurance available from four companies including the Johnstown District Mutual of Brockville and Times and Beacon Insurance Company, issued marriage licenses, was a conveyancer, and served in 1859 as a commissioner in the Queen's Bench for affidavits.
1860
The Lombardy Loyal Orange Lodge No. 90 opened a library in 1860, which was run by Edward.
1861
Edward, known as "Squire" Weekes, was a man of some substance, and had two horses and two pleasure carriages by 1861.
1870
1870s
The Union School at Lombardy was superintended by Edward during the 1870s. The teachers were local residents and included one of his daughters.
1876
By 1876, he had accumulated four acres of land on the south side, east of Klyne. He preferred to rent houses rather than split the land up and sell it.
1877
In 1877, Edward became the local agent for the 'Union Churn' which was awarded prizes at fairs.
In 1877 Edward recommended the organization of an agricultural society for a fair of their own. He procured the names of 50 persons who wished to become members of the new South Elmsley Branch Society.
Perth Courier, Jan. 12, 1877
"On Mon eve, 1st Jan, at the advanced age of 89 years, John McAuley, a native of Co Derry, Ire, and father-in-law to Mr E F Weekes, Lombardy."
1881
Edward passed away on September 17 at age 64. His death registration lists him as a magistrate, place of birth as County Antrim, cause of death as consumption.
Perth Expositor, October 27, 1881
"The Late Edward F. Weekes, Esq., of Lombardy, died on Saturday, the 17th Sept., at the age of 64 years. Deceased was born in the County of Antrim, Ireland and came to this country in 1839. His first occupation here was school teacher, and he taught in Wolford and Kitley. Many of the heads of families will remember their school days with Mr. Weekes. His career has been cut short in the midst of usefulness by that fell destroyer - - consumption. He was followed to the grave by his wife and twelve children and a large concourse of sympathizing friends and neighbours. He was appointed Justice of the Peace in 1852, and was Township Clerk for a number of years at Lombardy, and was always at the head of municipal affairs. His death has left a void at Lombardy as will be hard to fill. He was also superintendent of the Sabbath School there. He died trusting in that Saviour whom he loved and served, and his end was peace.

Tis hard to part, it rends the heart;
'Tis hard 'tis hard to sever.
'Tis sweet to know here below,
We do not part forever.
Written by a Friend."
1891
The 1891 census for Leeds and Grenville North - Smiths Falls, shows Mary J Weeks, age 61, birthplace Ireland, widowed, Methodist.
1893
When son Edward died in 1893, Mary Jane's address was listed on the death announcement as the corner of Annabella and Winnifred Streets in Smiths Falls. When Mary Jane died in 1897, her death registration lists her address as Market St. in Smiths Falls.
1897
Perth Courier, June 25, 1897
"An Early Settler Gone. - The Smith's Falls Record notes the death of an early settler of South Elmsley: - Another of the early settlers of this part of the country passed away last Saturday morning in the person of Mrs. E.F. Weeks. Deceased was born in County Derry, Ireland, in 1827, and in 1833 came with her family to this place, settling on the Gould farm. A few years later she married Mr. E.F. Weeks, who for some years taught school in this vicinity and later at Lombardy. The latter died about sixteen years ago."
Edward belonged to the Flowing Tide Temple, a temperance organization. As a leader in the temperance movement, he condemned drinking as a source of emotional problems and a loss in self-esteem: "The effort to resist the habit of drinking if only partially successful, causes an individual to have more renance and confidence in himself, and encourages him to attack other evil habits, while vice versa the yielding to this pernicious custom weakens the power of resistance, and gradually the person loses his manhood, loses all faith in, and respect for himself, and finally gives up all efforts to amend, and yields himself up an abject slave to his vitiated appetite, yes, and absolutely hugs his chains."
Much of this detail is found in James R. Kennedy's book "South Elmsley In The Making 1783-1983", 1984, and in Thad W. H. Leavitt's "History of Leeds and Grenville", Brockville: Recorder Press, 1879.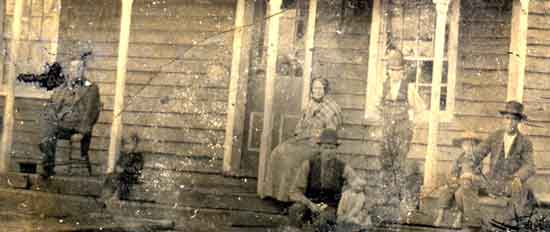 Almost certainly, the seated woman is Mary Jane, and perhaps the seated man is Edward. This could have been their hotel in Lombardy. Research is under way ... (This is a close-up of Mystery photo #8.)