Joseph Weekes and Annie White
Joseph and Annie's Marriage Registration
Joseph and family appear in the 1911 and 1921 (at 50 Lock St.) censuses for Smiths Falls. In 1921, Joseph was 64 and a carter, Annie was 60, Elizabeth was 31 and a teacher, Laura was 29 and a worker, and Beulah was 24 and a stenographer.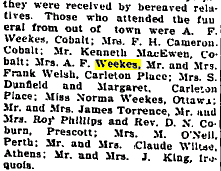 ---
Margaret Elizabeth Weekes
---
Laura May Weekes
---
Beulah Maude Weekes
Obituary
Miss Beulah Weekes of 28 McEwen Avenue passed away May 18 at Smiths Falls Public Hospital.

A retired stenographer Miss Weekes was a life long resident of Smiths Falls. She was a member of Westminster Presbyterian Church.

Surviving members of the family include Mrs. Norman Fawcett of Carleton Place, Dr. Kenneth McEwen of Toronto, and Dr. Mary McCallum of Cornwall. All were cousins of Miss Weekes.

Funeral service was held May 21 at Blair and Sons Funeral Home with Rev. Gillanders officiating. Interment was at Hillcrest Cemetery.

Pallbearers were Claude Van Dusen, Doug Foley, Bill Foley, John MacDonald, Cy Cavanagh, Erwin Connell.