William Joseph Weeks and Lucy May Wright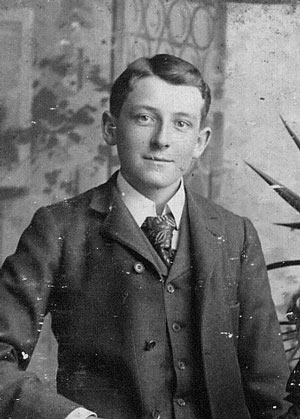 William Joseph Weeks c. 1897
Obituary - March 11, 1950
Funeral Monday For W.J. Weeks, Former Grocer
Funeral services for William J. Weeks, 70, of Kankakee, who died at 12:10 p.m. Friday at a nursing home, will be held at 2 p.m. Monday at St. Paul Episcopal church with the Rev. James G. Parker officiating.
Friends may call at Hertz funeral home Sunday and until the time of services Monday. Burial will be in Mound Grove cemetery.
Mr. Weeks was born Feb. 22, 1880 in Canada. He came to Kankakee when he was 12 years old. On Oct. 13, 1903 he married the former Lucy May Wright in Kankakee. Mrs. Weeks died in 1930. Mr. Weeks was connected with the retail grocery business in Kankakee for many years. For the past eight years he has been employed in various capacities by the state.
He is survived by sons Hiram and Lawrence of Kankakee and the Rev. William Weeks of Pasadena Texas, daughters Mrs. Lucille Larson of Chicago and Mrs. Gladys Colborn of St. Davids, Pa, and five grandsons.
---
Hiram Wright Weeks and Mariebell Contois
WEEKS, Hiram W., 95, of Tucson, AZ, formerly of Batavia, El Paso and Kankakee, IL, died peacefully January 7, 2002 in Tucson. Mr. Weeks was born in Kankakee on November 26, 1906. He was the son of William and Lucy Weeks. He graduated from Kankakee High School in the class of 1925. Married Mariebell Contois, his wife of 64 years, in Manteno, IL on November 27, 1929. Mr. Weeks was the owner of Weeks-Raynor Door Sales Company in El Paso, IL. Following his retirement he lived in Batavia, Woodlands, TX and Tucson. Hiram was a member of the Kiwanis and Lions Clubs. He was a Mason for 57 years and a life member of Kankakee Lodge No. 389.
A devoted father, brother, grandfather, and great-grandfather, uncle and friend, he is survived by his daughter, Sharon Tyrer (Roger) Morris of Batavia; his son, James (Melody) Weeks of Tucson; his brothers, the Rev. Canon William Weeks of Tucson and Lawrence (Leuna) Weeks of Avon, CT; six loving grandchildren, Debbie (James) Campbell of Elburn, IL, Stephen Weeks of Tucson, Julie (Bob) Birkeneder of Elburn, IL, Thomas (Kathy) Tyrer of Manhattan Beach, CA, Lisa (Michael) Jost of Libertyville, IL and Amy (Brad) Nelson of Geneva, IL; nine great-grandchildren, Jennifer, Christina and Elizabeth Birkeneder, Justin and Tyler Jost, Dylan and Brogan Tyrer, Andrew and Aleigh Nelson; his nieces, Denise Prindle, Lucy Weeks, Susan Weeks and Jane Randazzo; his nephew, the Rev. Lawrence Weeks; and special friend, Magda Wirth.
He was preceded in death by his wife, Mariebell in 1993; his parents; his sisters, Lucille Larson and Gladys Colburn; and son-in-law, Gene Tyrer. A memorial service will be held January 26 at 10:30 a.m. in the ADAIR FUNERAL HOME, Dodge Chapel, 1050 N. Dodge Blvd., Tucson, AZ. The Rev. Lawrence Weeks and the Rev. Canon William Weeks officiating. Interment will be at Memorial Gardens in Kankakee.
In lieu of flowers, memorials may be made to Carondelet Hospice, 1802 W. St. Mary's Road, Tucson, AZ 85745 or the charity of your choice.


---
Gladys Elizabeth Weeks
---
Harold Clark Colborn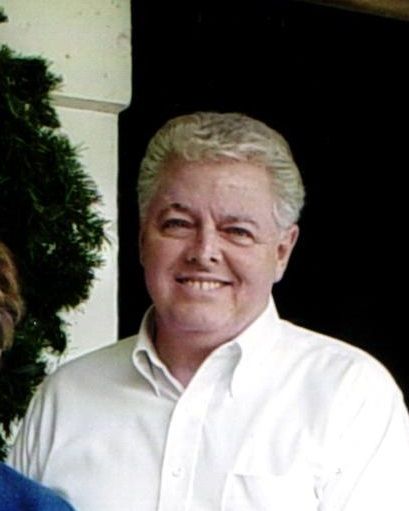 H. Clark Colborn, Jr., age 75, of Newtown Square, PA, peacefully passed away on October 3, 2016.
He was the son of Harold C. Colborn and Gladys Weeks Moon Colborn of St. Davids in Wayne, PA.
After attending Colorado Rocky Mountain Boarding School, he returned to graduate from Radnor High School in 1959. He served as a member of the Military Intelligence Service in the US Army and was honorably discharged. Clark attained his B.S.B.A. from Elizabethtown College in 1966 where he met Janet.
Clark was a devoted husband and loving father, as well as a loyal friend to those who knew him.
He loved singing barbershop harmony and enjoyed musicals, jazz, and comedy; humor was a huge part of his life and he always wanted to leave people smiling. His axiom was always "There is no right way to do a wrong thing."
Clark is survived by his wife, Janet (Ellenberger), whom he married in 1967, his children Kathleen Colborn of Manhattan, NY and son, Kenneth Colborn of Exton, PA, a sister, Elizabeth Turner, of North Carolina, and many nieces and nephews.
Clark spent his life passionately devoted to the financial planning business for more than 60 years. He received his Chartered Life Underwriter (CLU) and Chartered Financial Consultant (ChFC) designations from the American College, was a Certified Senior Advisor (CSA), life and qualifying member of the Million Dollar Round Table, consistent National Quality Award recipient, member of the Trust Counselor's Network and the National Association of Independent Financial Advisors. He was recognized in industry publications for his help in development of The Senior Income Solution (SIS).
Clark was a member of Masonic Blue Lodge #322, the Greater West Chester Chamber of Commerce, former board member of Goodwill Industries, and past volunteer for Big Brothers, Easter Seals and the American Heart Association. He was a member of the Willistown United Methodist Church, where both he and Janet were youth group leaders for more than 25 years.
Relatives and friends are invited to a memorial service to celebrate his life on Saturday, October 22nd at the Willistown United Methodist Church, 6051 West Chester Pike, Newtown Square, PA 19073, Ph: 610-644-2227, where friends are invited after 9:30am. Masonic Service at 10:45am, Memorial Service at 11:00am. Memorials may be sent in Clark's name to the Willistown United Methodist Church or to the American Heart Association, PO Box 15120, Chicago, IL 60693. [See the original]
---
Rev. Cannon William Preston Weeks
From: www.tucson.com
WEEKS, Rev. Cannon William Preston, died November 3, 2003 born in Kankakee, Illinois on April 2, 1917 where he attended elementary school and graduated from high school. He graduated from Kenyon College, Gambier Ohio, in 1938 and from Bexley Hall Episcopal Seminary in 1941. Cannon Weeks was ordained priest on December 14, 1941, and served in the US Navy as a Chaplain from 1941 - 1947. He continued to serve as a Chaplain in the Naval Reserve for 20 years. After WWII Cannon Weeks served as assistant rector at St. Andrew's Episcopal Church, Fort Worth, Texas. He also served as the Rector of: St. Peter's Episcopal Church, Pasadena, Texas; St. Peter's Episcopal Church, Kerrville, Texas; and Grace Episcopal Church, Tucson, Arizona. He was also very active in Diocesan work in the Episcopal Dioceses of Texas, West Texas and Arizona. Canon Weeks retired from active ministry in 1981 and served the Episcopal Church and several parishes in various capacities since that time. He is Rector Emeritus at Grace St. Paul's Episcopal Church, Tucson, Arizona. Canon Weeks was predeceased by his beloved wife of 54 years, Thelma Biddle Weeks, on September 20, 2000, and by his sisters, Lucille Larson and Gladys Colburn and brothers, Hiram Weeks and Lawrence Weeks. He is survived by his daughter, Lucy Elizabeth Weeks and granddaughter, Eliza Alexandria Biddle Weeks, and his son and daughter-in-law, Lawrence Biddle Weeks and Marcia Abbott Weeks, and two grandsons, William Elliott Biddle Weeks, and Elliott Francis Holliday Weeks. Memorial Service will be held at Grace St. Paul's Episcopal Church on Sunday, November 9, 2003 at 4:00 p.m. with The Rev. Gordon McBride officiating. Interment will follow at Grace St. Paul's Episcopal Church. Remembrances may be made to Grace St. Paul's Episcopal Church. Arrangements by ADAIR FUNERAL HOME, Dodge Chapel, 1050 N. Dodge Blvd. (at Speedway).
---
Lawrence Delbert Weeks
April 21, 2002
Lawrence Weeks, Army Air Corps veteran
Lawrence Delbert Weeks, 83, a life-long resident of Kankakee, died Saturday (April 13, 2002) at The Governor's House in Simsbury, Conn., where he had resided since November 2000.
Visitation will be from 9:30 a.m. Tuesday until the 10:30 a.m. service at St. Paul's Episcopal Church. Internment of cremains will be in The Columbarium in the Garden of St. Francis of St. Paul's. Memorials may be made to St. Paul's Episcopal Church or the Kankakee Area YMCA.
Mr. Weeks was born Dec. 7, 1918 in Kankakee, the son of William James and Lucy Mae Wright Weeks.
Surviving are his wife, the former Launa May Whipple, whom he married Dec. 28, 1948 at the Park College Chapel in Parkville, Mo.; two daughters and one son-in-law, Susan Weeks of Poway, Calif., Jane Weeks and John Randazzo of Avon, Conn.; five grandchildren; one brother, Rev. Canon William Weeks of Tucson, Ariz.; and six nieces and nephews.
One brother, Hiram Weeks; two sisters, Gladys Colborn and Lucille Larson; two brothers-in-law; and one sister-in-law, are deceased.
Mr. Weeks was employed by the Kankakee Ordnance Works, the David Bradley factory, and the Bear Brand Hosiery company.
He was a veteran of the Army Air Corps, a member of the Eighth Air Force. He completed 33 missions over Germany and France, winning the Presidential Citation, the European Theater of Operations Ribbon, the Air Medal and the Distinguished Flying Cross. After the war, he managed Kankakee Office Machines and then went to work for J.C. Penney Company, retiring in January 1983 after 34 years of service.
He was a member of St. Paul's Episcopal Church, a Sunday School teacher, an usher and lector, and served on the vestry. He was a charter member of the Air Force Reserve.
Mr. Weeks was a member of the VFW, Kankakee County Historical Society, the YMCA, the Elks Club, and the Quadrille Dance Club. He enjoyed reading, music and golf.
---
Jane Lucy Weeks
Jane Weeks, 49, of Avon, beloved wife of John F. Randazzo, died unexpectedly on Monday, (November 17, 2003) in the British Virgin Islands where she was vacationing with her husband. She was born November 25, 1954, in Kankakee, IL, the daughter of Launa (Whipple) Weeks of Avon and the late Lawrence Delbert Weeks. Jane was educated in the Kankakee School District, graduating from Eastridge High School in 1972. She attended Boston University in 1972, transferring to Drew University in New Jersey where she graduated in 1976. Jane received her Master's Degree in International Affairs from Columbia University in 1977. Jane was an integral part of the Oakwood Soccer Club and the Avon Soccer Club for many years. She was instrumental in organizing and coaching and was the Coach of the State Cup winning team, the Avon Wizards, in 2002. Besides her passion for soccer, Jane was devoted to her family. Also, Jane was both a parishioner and a volunteer at St. Mary's Church in Simsbury. Jane married John Randazzo at the Columbia University Chapel on April 12, 1980. Besides her husband and mother, she is survived by her children, Kelly, Alexis, Ted, and Jack Randazzo, all of Avon; her sister, Susan Weeks of Poway, CA; and many nieces and nephews. There are no calling hours. A Memorial service will be celebrated TODAY, November 24 at 11 a.m. in St. Mary's Church, 940 Hopmeadow Street, Simsbury. Burial will be at the convenience of the family. In lieu of flowers, memorial donations may be made to the Jane Weeks Soccer Scholarship Fund, c/o Fleet Bank, 740 Hopmeadow Street, Simsbury, CT 06070. Vincent Funeral Home, 880 Hopmeadow Street, Simsbury has charge of arrangements. - Published in The Hartford Courant from Nov. 22 to Nov. 24, 2003