Hugh Polk
Joseph Polk and Alice Rogers
From ancestry.ca and other web sources:
Joseph Polk and wife Alicia Rogers and their family, accompanied by Pat Hamilton and wife Margery Rogers and their family, with brother in law William George Rogers and wife Elizabeth McKenzie (Mac?) and their family left Mayo from Sligo on the brigantine Jane under Master Barwise, May 12 1831 and arrived at Quebec City June 16 1831 (as recorded in the Quebec Mercury for that date). There were a total of 143 passengers on board the brig Jane. From Quebec City they where transported by river barge to Bytown now Ottawa. From Bytown by the Rideau Canal to Smith Falls where William's the oldest son Thomas walked through the forest to New Boyne. Here he negotiated with Ephram Jackson for the purchase of land. Jackson was a United Loyalist who had come up from the United States. William's cabin was erected on Lot 7, which sided the town of Newboyne. He also owned lot 8 and lot nine Concession of Bastard, County of Leeds. These people all settled in the Newboyne, Leeds area.
The Hamiltons and the Polks also settled in this area, the Polks and Rogers remained there and died there and are buried in St. Peters Anglican Church Cemetery. The Hamiltons moved west to Manitoba and established a settlement of Hamiltons near Neepawa Manitoba. There are offspring of the Rogers still in the area of Newboyne and Portland Ontario.
Apparently the Rogers & Hamilton families intermarried several times. According to Patrick and Margery's marriage information on the LDS site, she was from Glanedagh (or Glenedagh), Co. Mayo and he was from Furlough, County Mayo. Their marriage took place October 5, 1809 in Crossmolina, Mayo. A granddaughter of George Hamilton who married Annie Rogers states George was the son of William James Hamilton and Hannah Jane who was also a Hamilton, and that William was the son of Patrick and Marjery.
Alice's sister Marjery and her husband Patrick Hamilton married September 10, 1815 at Crossmolina Mayo and
had two children: Alicia Hamilton and William James Hamilton (1825-unknown).
Alice's brother William George Rogers (1784 -1848) and his wife Elizabeth (Bessie) McKenzie ( - 1900) had children: John, James, William, George, Samuel, Thomas, Anna, Esther, Joseph, Alicia Jane. Their first born Thomas was born March 5, 1810. It is believed that William and Bessie were married in the Church of Ireland at Ardnaree. Ardnaree parish of Kilmoremoy is near to Castleconor on the east side of the River Moy and that there is said to be a "ROGERS HOUSE" in the vicinity of Castleconor. Castleconor is located north of Ballina on the east side of the river "MOY" near the border between Mayo and Sligo were they sailed from when coming to Canada.

It is rumored that William and his McKenzie mother-in-law had some grievance which was settled in a court of law to the benefit of his mother-in-law. It is said to settle the grievance William had to relinquish all his chattels and in so doing the decision was made to come to Canada.
---
Robert Polk and Ester Niblock
1901 Census - Bastard and Burgess Twp., District B1, Family 88
Loc #
Surname
Given Name
Sex
Relat.
Status
Birth
Age
Place of Birth
Origin
Religion
Occupation
328
Polk
Ester
F
Head
Wid
Aug. 3, 1834
66
Ont.
Irish
Church of England
329
Polk
David W.
M
Son
S
Aug. 16, 1867
34
Ont.
Irish
Church of England
Farmer
330
Polk
Charles J.
M
Son
S
April 15, 1873
28
Ont.
Irish
Church of England
Farmer
331
McCollom
May
F
Adopted
S
Aug. 1, 1886
15
Ont.
Scottish
Church of England
332
Polk
George
M
Adopted
S
July 14, 1885
16
Ont.
Scottish
Church of England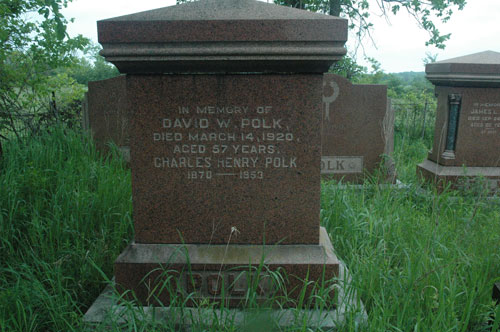 Marionetta Polk (Dec. 25, 1871 - Dec. 15, 1904) and George Robert Acheson

Parents: Robert Polk and Ester Niblock

Children: Stuart Robert Acheson

Stuart Robert Acheson (1901-1973) and Minnie Edna Sageant (1901-1940)

Parents: Marionetta Polk and George Robert Acheson

Children: Fredrick William Acheson (1929 - 2004)

"013143-1924 (Lanark Co) Stuart Robert ACHESON, 23, Farmer, Bastard Tp, same, s/o George Robert ACHESON (b. Leeds County) & Manetta POLK, married Minnie Edna SARGEANT, Housemaid, 23, Lanark Co, Maberly, d/o Robert SERGEANT (b. North Sherbrooke - Lanark) & Jessie McCULLOUGH, witn: Margaret & BEDFORD-JONES of Perth, 24 Sept 1924 at St James Church, Perth"
Sanford Polk (1893 - 1987) m. Margaret Ann Sly (1910 - 2008)
Parents: Robert Niblock Polk and Elizabeth Lyons
"POLK, Margaret Ann (nee Sly) 1910 ~ 2008 Peacefully at Rideaucrest Home on Saturday August 30, 2008, with her family by her side, at age 98. Beloved wife of the late Sanford Polk. Dear mother of Karl (Margaret) and family of Kingston, Eldon (special friend Mary Bridgen) (predeceased by Audrey and Mary) and family of Glenburnie, and Arnold (Marion) and family of Pakenham, Ontario. Much loved by her 10 grandchildren, Donald, Brian, Alan, Richard, Janet, John, Jennifer, Shannon, Cheryl and Kate and their families and very proud great-grandmother of 11. Friends will be received at the Robert J. Reid & Sons Funeral Home, 309 Johnson Street (corner of Barrie Street), on Tuesday evening from 6 to 9 p.m., and at 1 p.m. Wednesday, one hour prior to the service celebrating her life at 2 p.m. As expressions of sympathy, the family would appreciate donations to St. John's Anglican Church, Portsmouth, Rideaucrest Home, or a charity of your choice. Our heartfelt thanks to the Rideaucrest staff for their exceptional care of our beloved mother over the past 8 years."
Grave: Cataraqui, Old H Section, Kingston
---
Nelson Polk and Perscilla Rogers